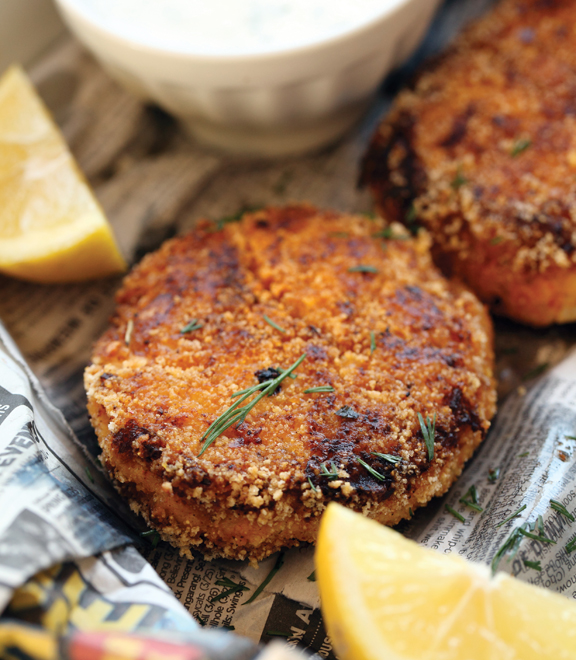 I'm excited to be the first stop on The Lusty Vegan Blog Tour, not just because it's such a fun (and well-written) book to read; not even because Jon's company published it; and certainly not because I need dating advice (!). The reason I'm especially excited is because I get to share one of my favorite recipes from the book (and believe me, there are SEVERAL favorites!) – but I especially love the Hearts of Baltimore Crab Cakes, made with hearts of palm. The recipe is easy to make and absolutely captures the texture and flavor of crab cakes. Served with a simple but delicious garlicky dill aioli and lemon wedges, this is definitely a recipe to lust after.
Which bring
s me conveniently back to the book: With a subtitle of "A Cookbook and Relationship Manifesto for Vegans and the People Who Love Them," you may think The Lusty Vegan is just for those in the dating game. Think again. The book contains great advice from co-authors Ayinde Howell and Zoe Eisenberg that I found to be applicable to most any relationship dynamic involving vegans and nonvegans, be it friends, family, or colleagues, and of course spouses.
I enjoyed the stories, tips, and anecdotes in the chapters, but I have to say that my favorite part of the book is the recipes. Each chapter closes with a group of recipes (80 in all) that relate to the topic of the specific chapter. Created by chef Ayinde Howell, these fabulous recipes can be savored harmoniously by both vegans and omnivores. Among my favorites are: Cajun Tofu with Dirty Quinoa, Cauliflower Steak with Miso-Rooster Sauce, Polenta Cakes with Chili-Garlic Sauce, Cranberry-Walnut Cinnamon Rolls, North African Lentil Stew with Roasted Yams, and, of course, the Hearts of Baltimore Crab Cakes:
Hearts of Baltimore Crab Cakes
Prep time: 10 minutes | Cook time: 10 minutes | Serves 2
Maryland crab cakes are traditionally oversized, and I wanted to recreate them using hearts of palm and traditional seasonings. I make them gluten-free and pair them with a garlicky dill aïoli. I don't know if it's spot on, but from what I hear, it's pretty darn close.
(From The Lusty Vegan © 2014 by Ayinde Howell and Zoe Eisenberg. Used with permission from Vegan Heritage Press.)
GARLICKY DILL AÏOLI
1/2 cup vegan mayonnaise
1 tablespoon fresh lemon juice
1 tablespoon chopped fresh dill
1 teaspoon minced garlic
CRAB CAKES
3 tablespoons grapeseed or safflower oil, divided, plus more for frying
1 (14-ounce) can hearts of palm, (not packed in sugar), roughly chopped to the consistency of crab meat
1/4 cup chopped celery
1/4 cup diced red bell pepper
1/2 cup chopped onion
2 teaspoons minced garlic
2 teaspoons Old Bay Seasoning
1 teaspoon cornstarch
1/4 cup vegan mayonnaise
BREADING
1/2 cup gluten-free bread crumbs, or more
1 tablespoon Old Bay Seasoning
Lemon wedges, to serve
1. Garlicky Dill Aïoli: Combine all the ingredients in a small bowl. Mix well and add salt and pepper to taste. Set in the fridge to keep cool.
2. Crab Cakes: Heat 2 tablespoons of the oil in a large skillet over medium-high heat. Add the hearts of palm and sauté for 8 to 10 minutes, stirring occasionally to prevent sticking. Cook until golden brown on all sides. Set aside to cool. Add the celery and peppers and mix well.
3. Heat 1 tablespoon of the oil in a skillet over medium-heat heat. Add the onions and sauté until translucent, 2 to 3 minutes. Add the garlic and sauté for 1 minute.
4. Remove from the heat, add to the hearts of palm, and mix well. Add the Old Bay seasoning, cornstarch, and mayo.
5. Transfer the mixture to a mixing bowl and mix well. Set aside to cool to room temperature, then shape the mixture into four round patties.
6. Breading: In a shallow bowl, combine the bread crumbs and Old Bay seasoning, stirring to mix. Coat the patties with the breadcrumb mixture and refrigerate for 20 minutes.
7. Heat about 3 tablespoons oil in a medium skillet over medium-high heat until hot and shimmering. Carefully place the patties in the skillet and cook until golden brown on each side, approximately 2 minutes per side. Watch closely to prevent burning. Transfer the cooked patties to a plate lined with paper towels to drain any excess oil. Serve hot, topped with the aïoli, with lemon wedges on the side.
Bottom line: Whether you want the guilty pleasure of the frank and irreverent relationships talk or Ayinde's fabulous recipes, you'll want your own copy of The Lusty Vegan.  (Be sure to keep up with the rest of The Lusty Vegan Blog Tour for more recipes,as well as guest posts, interviews, and giveaways.)
{ 6 comments }