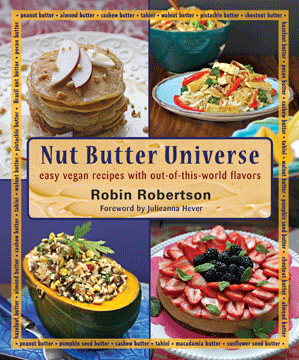 Thanks to the great response to my cookbook,  Nut Butter Universe, we're having a SECOND Blog Tour this week!  So if you missed the first one (or even if you didn't) there will be lots of opportunities to try sample recipes, win a copy of the book, and learn more about the universe of nut butters.
This week's blog tour gets off to an amazing start with a post on Save the Kales that features the recipe for Linguine with Thai Pesto and a photo of the cutest puppy dog!
Here's the entire schedule for the week:
Monday, Sept 16 – Save the Kales
Tuesday, Sept 17 – Cadry's Kitchen
Wednesday, Sept 18 – From A to Vegan
Thursday, Sept 19 – The Vegan Chickpea
Friday, Sept 20 – The Little Foxes
Please stop by and visit the sites on the tour!  And if you haven't gotten your copy of Nut Butter Universe, here's a thrifty idea:  When you buy both Nut Butter Universe and my newest book, One-Dish Vegan together on Amazon, you get FREE SHIPPING!  (If you already have one or the other, you can give one as a gift!)  Pretty good idea, huh?
RECIPE CORRECTION:  To everyone who has Nut Butter Universe, please make a correction to the recipe for Vegetable-Cashew Korma.  There is a typo in the ingredient list.  It should read: "1 TEASPOON garam masala" — NOT "1 TABLESPOON garam masala" — I apologize for not catching this typo.  It will be corrected in upcoming print runs of the book.  In the meantime, please savor this photo of the korma (shown with vegetable pakora) from Cadry's Kitchen.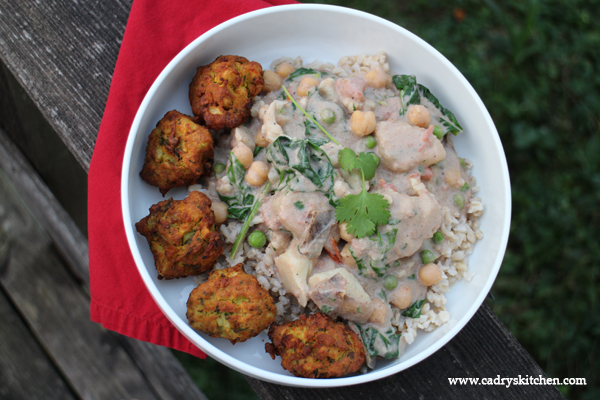 And many thanks to Cadry for graciously pointing out the typo.  BTW there's a giveaway going on right now at Cadry's Kitchen to win a copy of Nut Butter Universe, so hurry on over there to enter.
Thanks to you all for your support of my work.  It means the world to me!