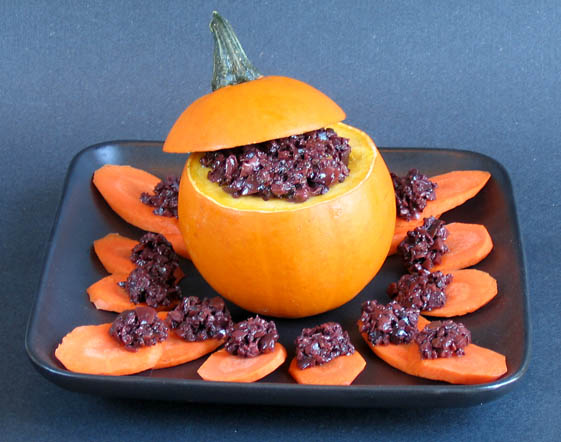 Between preparing for this week's horrendous storm and now picking up after it, I haven't had time to develop any new Halloween recipes.  That's what's so great about already having a stash of great tried-and-true ways to celebrate the holiday.
My favorite Holloween menu is this one from one of my personal favorite books – 
Party Vegan.
  Every element of this fun menu is done in orange and black such as the tapenade and carrots at the top of this post and the chili (above) —  or the cute pumpkin muffins like the one below (photo by Tamasin Noyes):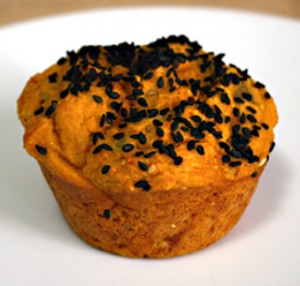 And, as with all the menus in
Party Vegan
, you don't have to make all the recipes at the same time — you can pick and choose.  For example, unless we're having people over, I usually just make the chili and muffins, but if you want to go all out, the entire menu set out on a table makes for a
spook-tacular
presentation! (sorry, couldn't help it!)
Here's the menu for Party Vegan's Halloween Boo-ffet:
Black Olive Tapenade with Carrot Sticks and Orange Bell Pepper Strips
Black Bean and Butternut Chili
Savory Pumpkin Muffins with Black Sesame Seeds
Black Rice Salad (with grated carrot, diced orange bell pepper, etc.)
Orange-Carrot Cake with Dark Chocolate Icing
Here's the recipe for the chili:

Black Bean and Butternut Chili
This flavorful chili makes a great centerpiece when served in a large pumpkin shell. You can also serve it in a crock pot on the "keep warm" setting. (This recipe is from Party Vegan by Robin Robertson © 2010, John Wiley and Sons.)
1 small butternut squash, peeled, halved, and seeded
1 tablespoon olive oil
1 medium yellow onion, chopped
1 carrot, finely chopped
1 orange bell pepper, chopped (optional)
1 (14.5-ounce) can crushed tomatoes
2 tablespoons tomato paste
3 1/2 cups cooked or 3 (15.5-ounce) cans black beans, drained and rinsed
1 chipotle chile in adobo, minced
1 cup apple juice
3 tablespoons chili powder
1/2 teaspoon ground allspice
1/2 teaspoon sugar
Salt and freshly ground black pepper
1. Cut the squash into 1/4-inch dice and set aside. In a large saucepan, heat the oil over medium heat. Add the onion, squash, carrot, and bell pepper, if using. Cover and cook, until softened, about 10 minutes.
2. Add the tomatoes, tomato paste, black beans, and chipotle. Stir in the apple juice, chili powder, allspice, sugar, and salt and black pepper to taste. Bring to a boil, then reduce the heat to low. Simmer, covered, until the vegetables are tender, about 30 minutes, stirring occasionally.
3. Uncover and simmer about 10 minutes longer. Serve hot.
Happy Halloween!  And warm thoughts to those of you still enduring the after-effects of this week's storm.  I hope you find a way to give yourselves a little treat tonight in spite of  Sandy's "tricks"!
HALLOWEEN FUN:  Here's a photo I found of Jon and I taken on a Halloween night back in the early 1980s — sorry for the bad quality of the photo.  Can you guess what we are? (answer at the end of post)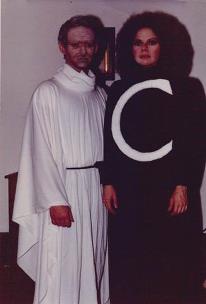 ANSWER:  We're "The Old Man and the "C" ("Sea"/"C" — get it?)