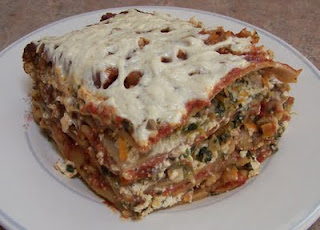 I'm so thrilled that my new book, Fresh From the Vegan Slow Cooker has been chosen as the #2 best new cookbook for 2012 by LA Weekly.
To celebrate this honor, I'm sharing one of my favorite recipes from the book. I chose one that shows just how versatile slow cookers can be.  Everyone knows that slow cookers are fantastic for cooking beans, stews, soups, and chili, but they're also surprisingly good for cooking things that you normally associate with oven-baking such as breads, cakes, and casseroles.  A delicious example is this recipe for Lasagna Primavera (tester photo by Melissa Chapman).
Making lasagna in a slow cooker may sound unconventional, but it tastes great and is convenient to make. This one is loaded with lots of fresh vegetables and protein-rich tofu, so it makes a great one-dish meal.  Here's the recipe:
Lasagna Primavera
You will need to break the lasagna noodles to conform to the shape of the slow cooker. For best results, use a large oval slow cooker. Note: Use regular lasagna noodles in this recipe, not the "no-boil" kind which may contain eggs. This recipe is from my new book, Fresh from the Vegan Slow Cooker © 2012 by Robin Robertson.
Slow Cooker Size: 5 to 6 quart
Cook Time: 4 hours on Low
8 ounces lasagna noodles (about 8 noodles)
2 teaspoons olive oil or 1/4 cup water
1 small yellow onion, minced
3 garlic cloves, minced
1 cup chopped broccoli florets or zucchini
1 medium carrot, shredded
8 ounces white mushrooms, chopped
1 (10-ounce) package frozen chopped spinach, thawed and squeezed dry
Salt and freshly ground black pepper
1 pound soft or medium tofu, drained
1 pound firm tofu, drained
1/3 cup nutritional yeast
1/4 cup minced fresh parsley leaves
2 teaspoons dried basil
1 teaspoon dried oregano
1/3 cup vegan Parmesan cheese (purchased or homemade), plus more for sprinkling
1 (24-ounce) jar marinara sauce or your favorite tomato sauce for pasta
1 cup shredded vegan mozzarella cheese (optional)
Break the noodles in half and place them in a large baking dish. Pour on enough boiling water co cover and set aside while you prepare the remaining ingredients.
For the best flavor, heat the oil or water in a skillet over medium-high heat. Add the onion and sauté for 5 minutes.  Add the garlic, broccoli, carrot, and mushrooms, and cook 1 minute longer.  Alternatively, omit the oil and combine the ingredients in a microwave-safe bowl, cover, and microwave for 4 minutes. Drain off any liquid.  Stir in the spinach and season with salt and pepper to taste.  Set aside.
Crumble all of the tofu into a large bowl. Add the nutritional yeast, parsley, basil, oregano, vegan Parmesan, and salt and pepper to taste.  Mix well, then taste to make sure the mixture has enough salt and plenty of pepper.
Lightly oil the insert of a slow cooker or spray it with cooking spray.  Drain the noodles. Spread a thin layer of marinara sauce into the bottom of the slow cooker. Arrange a layer of the noodle pieces over the sauce, overlapping slightly, as needed. Top the noodles with about one-third of the tofu mixture, followed by one-third of the vegetable mixture, and another layer of noodles. Spread a thin layer of marinara sauce over the noodles and sprinkle with vegan Parmesan. Repeat the layering until the ingredients are used up, ending with a layer of marinara sauce. Sprinkle with vegan Parmesan. Cover and cook on Low for 3 1/2 hours.
Scatter the vegan mozzarella (if using) all over the top of the lasagna. Cover and cook for 30 minutes longer (whether or not you add the mozzarella).
Remove the lid, turn off the cooker, and let the lasagna stand for about 15 minutes before serving.
Serves 6
A big "thank you" and a small request:  Many thanks to all of you who have sent me messages and e-mails about how much you're enjoying Fresh from the Vegan Slow Cooker. I appreciate it very much!  I'd love it if you could share some of those kind words by posting a brief review on Amazon (and elsewhere) to let people know about the book.  It would be a huge help!  (Thank you!)
P.S. Here's my photo of the lasagna (before digging in!):