I'd like to introduce you to the newest member of the Robertson household.  His name (at the moment) is Little Eli, although we usually call him by one of several nicknames such as Peanut, Noodle, and Pumpkin.  We also call him "Right Turn" because his tail was broken at the base and his long tail is crooked – it always looks like it's signaling a right turn.  I usually just call him Peanut, though, so that may end up being the name that sticks, even though I prefer to give him a "people" name.  We'll see.
We had been wanting to adopt another cat for some time, but it never seemed to work out.  We finally decided that we'd know when it was the right time (and the right cat). We thought we'd adopt another black and white cat, although I admit, I've always had a soft spot for orange tabbies, even though I've never had the pleasure of sharing my home with one — until now.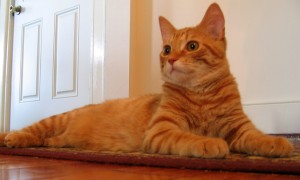 We discovered Little Eli one hot Saturday morning in August.  He was in a cage at the Farmers Market — the local animal shelter was offering him for adoption.  There was live music blaring, people walking all around him, and young children poking at him.  I knew I had to rescue him.  Within minutes, the adoption was complete and we were taking our new boy home.  He adjusted to his new life immediately.  Jon says he thinks Eli knows he hit the jackpot coming to live with us.  But we know that it was us who hit the jackpot by adopting him.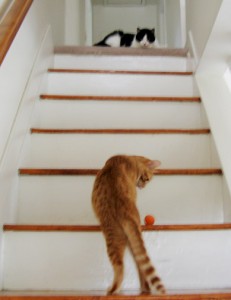 He's fun, intelligent, and lively with his non-stop kitten antics.  He's about seven months old now.  He tries to get the other cats to play with him.  Mitski will have nothing to do with him, but Gary is beginning to get used to him.  We still hope that one day they will all be friends.