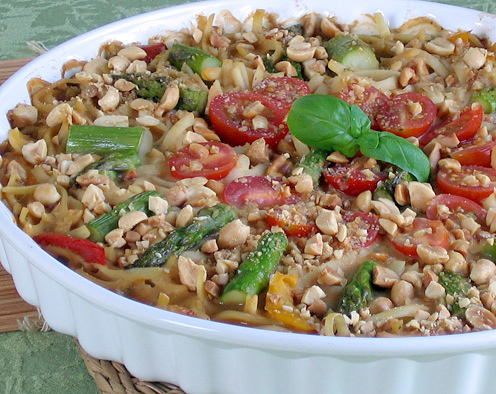 The response to my new book, One-Dish Vegan has been tremendous and the early sales have been through the roof!  To thank you all for your support for my work, I want to share one of my favorite recipes from One-Dish Vegan with you.
If you've been following my blog, you know I'm a fiend for Thai food and that I also adore mac and cheese.  So it should come as no surprise that I've combined the two to make a delicious Thai-inspired noodle casserole that I call "Mac and Thai."  The flavor actually reminds me of Pad Thai, so I almost called it Pad Thai Pie.  I hope you enjoy this recipe as much as I do and if you already have a copy of One-Dish Vegan, I do hope you love it (and will take a few minutes to write a nice little review on Amazon… please, and thank you!)
Mac And Thai
Instead of the white beans, you may substitute 1 1/2 cups crumbled firm tofu, if you like. Use rice noodles to make this gluten-free. Lightly steamed small broccoli florets may be substituted for the asparagus, if desired.
Ingredients:
1 1/2 cups cooked white beans or 1 (15.5-ounce) can white beans, rinsed and drained
1/4 cup plain unsweetened almond milk or other nondairy milk
2 tablespoons nutritional yeast
5 scallions, minced
2 tablespoons freshly squeezed lime juice
1 teaspoon rice vinegar
1 teaspoon peanut butter
1/2 teaspoon garlic powder
Salt
3 cups cooked linguine or soaked rice noodles (6 to 8 ounces before cooking)
1 tablespoon vegetable oil or 1/4 cup water
1/2 cup chopped red onion
6 ounces asparagus, trimmed and cut into 1-inch pieces
2 garlic cloves, minced
1 small carrot, peeled and shredded
1/2 red bell pepper, seeded and chopped
1 cup thinly sliced white mushrooms
2 tablespoons wheat-free tamari or vegan oyster sauce
1 tablespoon natural sugar
1 teaspoon Asian chili paste (optional)
2 tablespoons water
6 grape tomatoes, halved lengthwise
3 tablespoons crushed unsalted roasted peanuts
2 tablespoons chopped fresh cilantro or Thai basil
Lime wedges, for serving
Directions:
1. Preheat the oven to 350°F. Lightly oil a 9- to 10-inch pie plate or quiche pan.
2. In a high-speed blender or food processor, combine the beans, almond milk, nutritional yeast, half of the scallions, the lime juice, vinegar, peanut butter, garlic powder, and 1/2 teaspoon salt. Puree until smooth, then transfer to a large bowl. Add the noodles and mix well to combine. Set aside.
3. Heat the oil or water in a skillet over medium heat. Add the onion and cook for 4 minutes to soften. Add the asparagus, garlic, carrot, bell pepper, mushrooms, and remaining scallions. Stir in the tamari, sugar, chili paste (if using), and water. Cover and cook for 3 minutes. Remove the lid and continue cooking until the liquid has mostly evaporated. Transfer the vegetables to the bowl with the noodle mixture and mix well to combine. Taste and adjust the seasonings if needed.
4. Spread the mixture evenly into the prepared pan. Arrange the tomato halves on top of the mixture around the outer edge of the pan in an evenly spaced circle, pressing the tomatoes lightly into the mixture. Cover loosely and bake for 45 minutes, or until bubbly. Let cool for about 10 minutes before cutting. Sprinkle the top with the peanuts and cilantro. Serve with lime wedges.
RECIPE © 2013 BY ROBIN ROBERTSON AND USED BY PERMISSION OF THE HARVARD COMMON PRESS