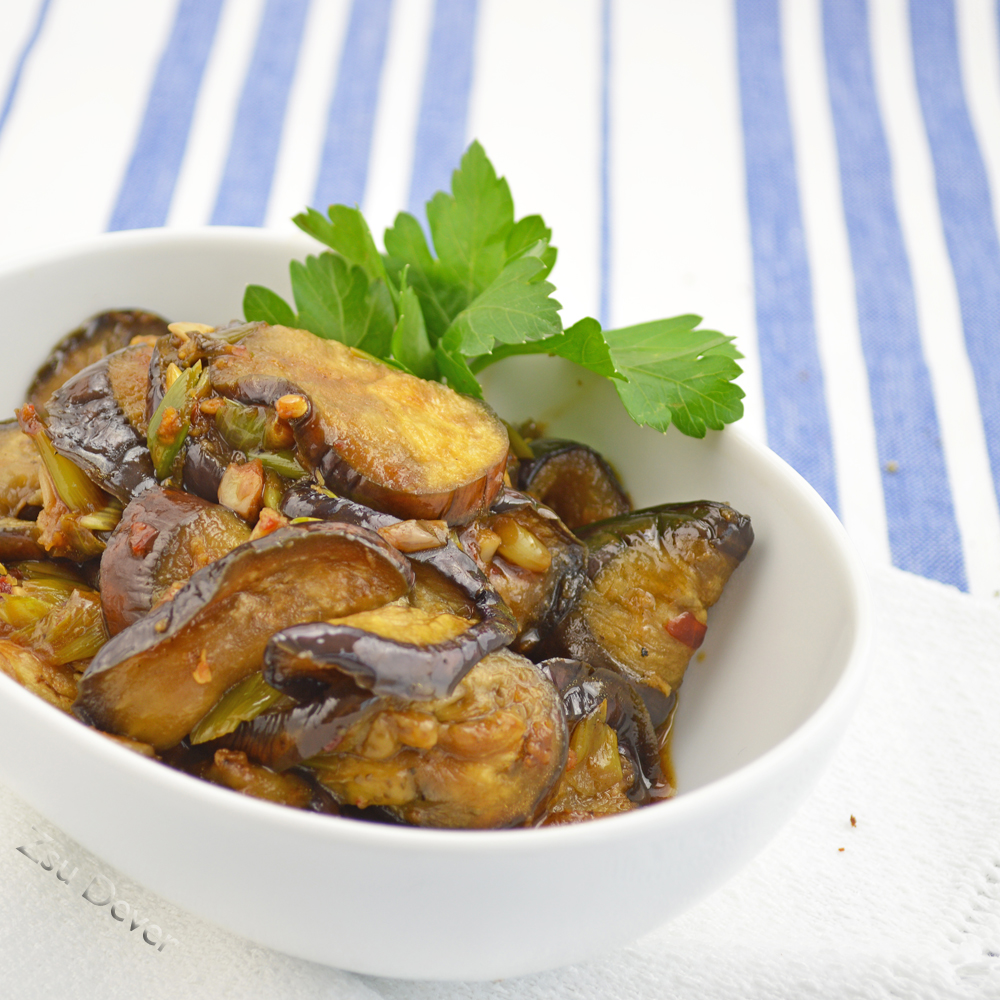 With just a little over a week to go of 30 Days of Vegan Cooking to celebrate World Vegan Month, today's recipe is for Mahogany Eggplant.
In this recipe, tender slices of Japanese eggplant are steeped in a flavorful tamari broth, which gives it a rich mahogany color. I like to use small Japanese eggplants, but regular eggplants may be substituted, if necessary. To prepare this dish on the grill, brush the eggplant slices with a small amount of the sauce, then heat the remaining sauce separately to top the grilled eggplant.  The eggplant is especially good served over rice.

Mahogany Eggplant
from Vegan Planet by Robin Robertson
Serves 4
Ingredients:
 2 tablespoons neutral vegetable oil
3 Japanese eggplants, cut into 1/4-inch-thick diagonal slices
3 scallions, chopped
2 garlic cloves, minced
2 teaspoons grated fresh ginger
1/4 cup water
3 tablespoons low-sodium tamari
2 tablespoons sake or dry white wine
1 teaspoon Asian chili paste
1/2 teaspoon natural sugar
Directions:
1. Heat 1 tablespoon of the oil in a large skillet over medium-high heat. Add the eggplant in batches and cook until browned on both sides, about 10 minutes total. Transfer to a plate and set aside.
2. Heat the remaining 1 tablespoon oil in the same skillet over medium heat. Add the scallions, garlic, and ginger and cook, stirring, until fragrant, about 30 seconds. Stir in the water, tamari, sake, chili paste, and sugar and simmer for 2 to 3 minutes, stirring to blend. Return the eggplant to the pan, tossing to coat it with the sauce. Cover and simmer until tender, about 10 minutes. Serve hot.