I got an early Mother's Day gift this year: Jon took this beautiful photo of our newly adopted daughter, Margaret.  Doesn't she look pretty posing with a vase of lilacs from my favorite lilac bush?
Mother's Day is always doubly special for me because that's when we celebrate Gary's birthday!  He'll be 11 years old this year.  Such a handsome boy!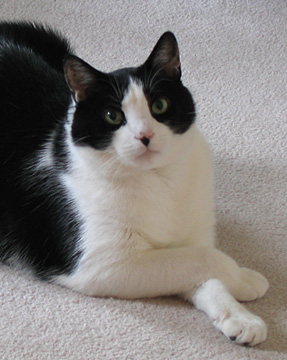 On Mother's Day I also like to think about our mother Earth (or  "Mother Nature") — and all of its beauty, specially the wonderful animals.  This year, its great to have beautiful music to listen to as I reflect.  I'm talking about Daniel Redwood's new album, Songs for Animals, People, and the Earth.  It's a truly lovely and powerful collection of songs — an inspiring and compassionate soundtrack for the animals and people who love them.  To hear a sample of Daniel's beautiful album, visit his website.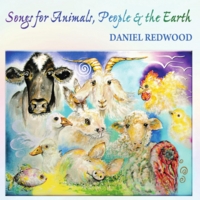 If you're planning to cook something special on Mother's Day, consider cooking from Nut Butter Universe to make a special brunch or dinner (or maybe a batch of Chocolate Macadamia Truffles with Coconut???).  BTW…there's a giveaway going on right now on the Vegan Heritage Press blog to win a copy of Nut Butter Universe — so if you don't have a copy yet (or even if you do!) enter now to win!
Here's another fun dish I made recently (along with a nice picatta and roasted baby potatoes).  This whole Roasted Cauliflower topped with Cheesy Sunflower Sauce, is a tasty way to "say it with flowers" on Mother's Day!
Here's the recipe:
 Roasted Cauliflower with Cheesy Sunflower Sauce
1 head cauliflower, trimmed and cored
2 teaspoons olive oil
Pinch of salt, black pepper, and paprika
Cheesy Sunflower Sauce:
1 roasted yellow bell pepper, chopped
1/3 cup sunflower seeds, soaked for 4 hours and drained
1/4 cup plain unsweetened almond milk
1 tablespoon fresh lemon juice
1 teaspoon prepared yellow mustard
1/2 teaspoon salt
1/2 cup nutritional yeast
1/2 teaspoon liquid smoke
1/2 teaspoon smoked paprika
Garnish:
2 tablespoons minced fresh parsley or dill
Cauliflower:
Preheat the oven to 400 degrees F. Place the head of cauliflower, cut-side down, in a large baking dish with about 1 inch of water. Rub the cauliflower with the oil and sprinkle with salt, pepper, and paprika. Cover tightly and bake for 20 to 30 minutes. Uncover and increase the heat to 425 degrees and roast for 10 to 15 minutes longer, or until tender when pierced with a knife or fork.
Sauce:
While the cauliflower is roasting, combine bell pepper, soaked and drained seeds, almond milk, lemon juice, mustard, and salt in a high-speed blender and blend until smooth. Add the nutritional yeast, liquid smoke, and paprika, and blend again until completely smooth.
To serve:
Arrange the cauliflower on a platter, spoon the sauce over top, and sprinkle with parsley or dill.  Serve hot.