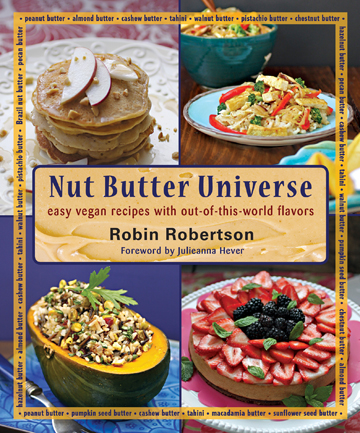 It's time to announce the two winners of the Cookbook Giveaway for two signed copies of Nut Butter Universe.  First, a huge thank you to everyone who entered.  If you didn't win, I hope you will put Nut Butter Universe on your Christmas list!

The winners (chosen at random by the infamous Random Number Generator) are:
#22 – Gloria Kersh — whose favorite nut butter is peanut butter.
and
#162 – Kristin Troska — who likes Sunflower Nut Butter on toast.
Congratulations, Gloria and Kristin!  Please e-mail me with your mailing addresses so I can sign your books and get them out to you. (Let me know if you want the books signed for you or someone else.)
I don't want to leave everyone else empty-handed, so how about another recipe from Nut Butter Universe?  This is one of my favorite desserts in the book:
Lemon-Kissed Chocolate-Cashew Mousse
A touch of lemon adds a refreshing flavor note to this chocolatey mousse.  A garnish of chopped cashews adds crunch. This recipe is from Nut Butter Universe by Robin Robertson. (c) 2013.

1 cup vegan semisweet chocolate chips
1/2 cup raw cashews, soaked 4 hours, then drained well
3 tablespoons fresh lemon juice
6 ounces extra-firm silken tofu, drained and blotted dry
1/4 cup agave nectar or maple syrup
1 teaspoon vanilla extract
2 teaspoons finely grated lemon zest, divided
2 tablespoons chocolate curls or toasted chopped cashews, for garnish
Melt the chocolate in the top of a double boiler over gently simmering water, stirring frequently.  Set aside. 
In a dry blender, grind the cashews to a paste.  Add the lemon juice, tofu, agave, and vanilla extract and blend until smooth. Add the reserved melted chocolate and 1 teaspoon of the lemon zest and process until smooth. 
Transfer to individual dessert dishes, cover, and refrigerate until well chilled, at least 4 hours. 
When ready to serve, sprinkle the top of each dessert with the remaining lemon zest and chocolate curls or nuts.
Serves 4