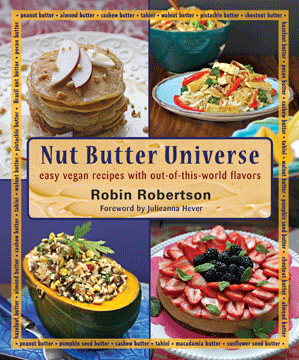 I'm very excited to announce the publication of my next book, Nut Butter Universe: Easy Vegan Recipes with Out-of-this-World Flavors.  Published by Vegan Heritage Press, the book will be available in February, right around Valentine's Day, which is perfect because I LOVE this book!
Filled with recipes featuring all your favorite nut butters, as well as recipes for making your own nut butters at home, Nut Butter Universe also features a Foreword by vegan nutrition superstar, Julieanna Hever (The Plant Based Dietitian), who explains everything you want to know about the nutritional benefits of nut butters.  The book is made even more special thanks to the gorgeous photography of Lori Maffei, whose beautiful photos you see on the cover.
From starters, soups, and sandwiches, to main dishes, breakfasts, and desserts, the recipes feature delectable butters made from cashews, walnuts, Brazil nuts, macadamias, almonds, peanuts, and more. Just a small amount of nut butter can add great texture, flavor, and nutrition to your meals. The recipes include:
Artichoke Walnut Butter Bisque
Savory Three-Nut Pâté
Chestnut and Winter Vegetable Pot Pie
Roasted Tahini Cauliflower
Grilled Vegetables with Almond Romesco Sauce
Penne Primavera with Avocado Cashew Cream
Ginger-Walnut Scones
Pecan Butter Waffles
Pineapple Coconut Cheesecake
Chocolate Macadamia Truffles
As some of you may recall, several years ago I wrote a little book called Peanut Butter Planet. Nut Butter Universe is a reimagining of that earlier book, transformed with dozens of all new recipes, and, of course, using an entire universe of nut butters!  I hope you will be as excited about Nut Butter Universe as I am.  It's available for Pre-order on Amazon.
In the weeks ahead, I'll post some of the photos from inside the book, along with a sample recipe or two.  For now, I'll leave you with a photo of one of my many favorite recipes from the book, the Roasted Nicoise Salad: