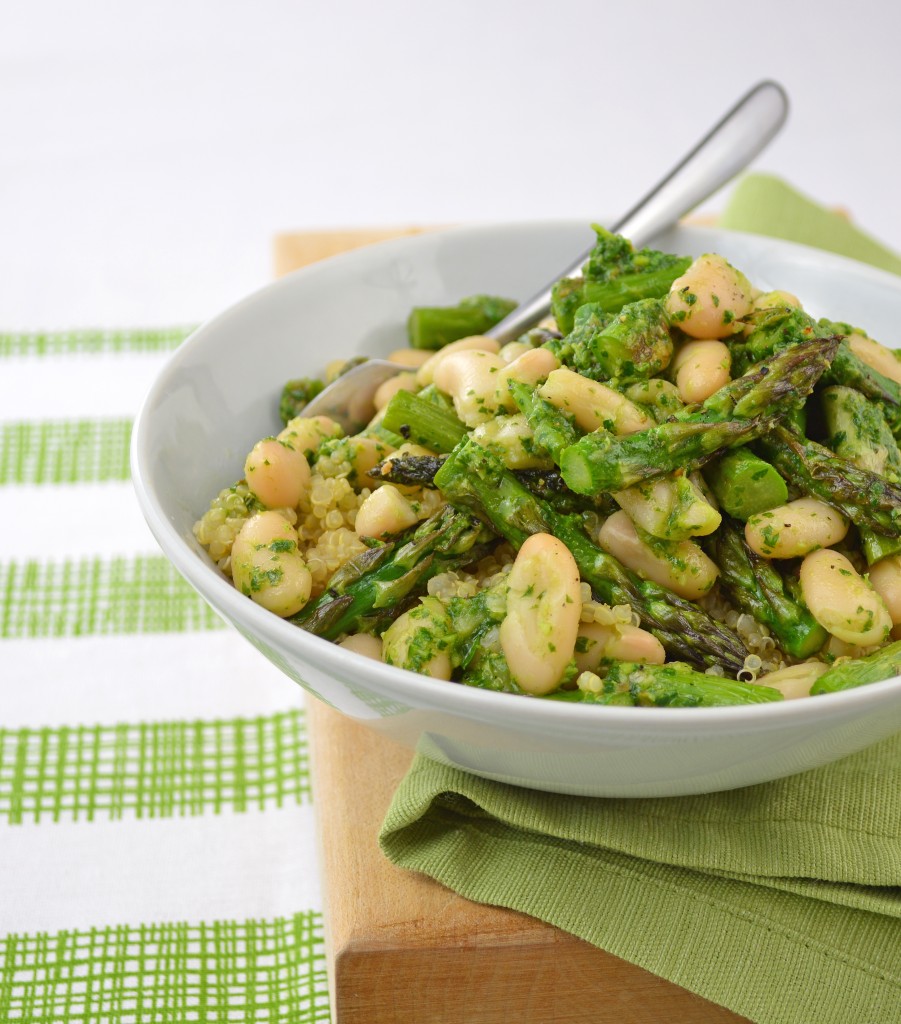 Asparagus is one of my favorite vegetables and I make it often the spring when prices are lower.  While I always roast asparagus (because it tastes best that way!), I don't always serve it the same way.  Often, it is relegated to side dish, lightly seasoned with just a squeeze of lemon as an accompaniment to a seitan or tofu dish.  But I also like to feature it prominently in stir-fries or pasta dishes featuring more assertive flavors such as the chimichurri sauce in this recipe.
Loaded with flavor, chimichurri sauce is a Brazilian condiment made with garlic and parsley.  It's easy to make but can also be found in jars in most supermarkets if you're in a hurry.  Either way, this dish pulls together quickly, using cooked or canned white beans.  It's equally good served over cooked rice or quinoa or tossed with hot cooked pasta. (Thanks to Zsu Dever for the great photo!)
Happy Spring!
CHIMICHURRI WHITE BEANS AND ROASTED ASPARAGUS
Serves 4
This recipe is from my new book, 100 Best Vegan Recipes.
1 pound thin asparagus, trimmed and cut into 1-inch pieces
4 tablespoons olive oil, divided
Salt and freshly ground black pepper
4 cloves garlic, crushed
1 cup coarsely chopped fresh flat-leaf parsley
1 1/2 teaspoons fresh oregano or 1/2 teaspoon dried
Pinch of sugar
Salt and fresh ground black pepper
1/4 teaspoon red pepper flakes
Pinch of sugar
1 1/2 tablespoons rice vinegar
1 1/2 cups cooked white beans or 1 (15.5-ounce) can white beans, drained and rinsed
1/4 cup water
Preheat the oven to 425° degrees F. In a bowl, combine the asparagus and 1 tablespoon of the oil. Season with salt and pepper to taste and toss to coat. Spread the asparagus on a baking pan and roast until tender, about 8 minutes.
In a small food processor, combine the garlic, parsley, oregano, red pepper flakes, sugar, 1/4 teaspoon of salt, 1/4 teaspoon black pepper, red pepper flakes, and sugar. Process to a paste. Add the vinegar and the remaining 3 tablespoons of oil. Process until smooth. Set aside.
In a saucepan, combine the beans and 1/4 cup water. Cook, stirring, over medium heat until hot. When the asparagus is roasted, transfer it to the saucepan with the beans. Add the reserved sauce and mix gently to combine. Serve hot.