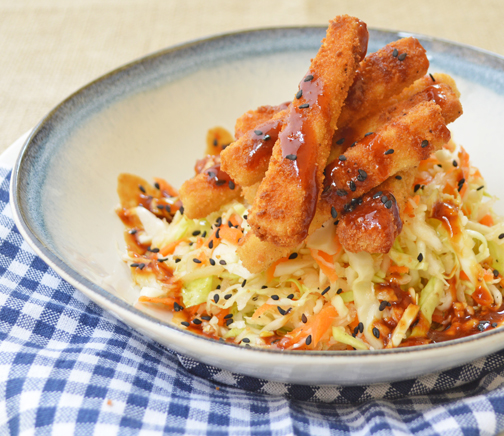 There's lots to love about tofu tonkatsu. First there's the crisp-on-the-outside, soft-on-the-inside tofu cutlets sitting atop a crisp and crunchy slaw fragrant of ginger and sesame oil. Then, topping it off is the oh-so-flavorful sauce, at once zesty, tangy, and fruity.  These three components, when served together, create a harmonious symphony of flavors and textures that make you want more. If you're not a fan of tofu, try it with thin slices of seitan or tempeh.
This recipe is from my book Vegan Without Borders: Easy Everyday Meals from Around the World. The photo is by Zsu Dever.
Tofu Tonkatsu
The name tonkatsu means "pork cutlets" but not surprisingly, this tasty dish is fabulous made with tofu, coated with panko and topped with the traditional zesty sauce. It's especially good paired with the crunchy slaw. This recipe is from Vegan Without Borders by Robin Robertson © 2014. Published by Andrews McMeel Publishing.
Sauce:
1/2 cup ketchup
1/4 cup tamari
2 tablespoons agave nectar
2 tablespoons vegan Worcestershire sauce
1 tablespoon unsweetened applesauce
2 teaspoons spicy brown mustard
Slaw:
6 cups shredded cabbage (1 small head)
1 large carrot, shredded
3 tablespoons rice vinegar
2 teaspoons agave nectar
1 to 2 teaspoons grated fresh ginger
1 to 2 teaspoons dark sesame oil
Salt and black pepper
Tofu:
12 ounces extra-firm tofu, drained, pressed, and cut into 1/2-inch slices, then cut each slice in half, lengthwise
1/2 cup plain unsweetened almond milk
1/2 cup all-purpose flour
1 cup panko bread crumbs
Neutral vegetable oil, for frying
Sauce: In a bowl, To make the sauce, combine the ketchup, soy sauce, agave, Worcestershire sauce, applesauce (if using), and mustard in a bowl. Stir to mix well. Set aside.
Slaw: To make the slaw, combine all the ingredients in a large bowl. Toss to combine well. Cover and refrigerate until needed.
Tofu: Place the almond milk, flour, and panko crumbs in three separate shallow bowls. Dip the tofu slices into the almond milk, then dredge them in the flour and then back into the almond milk, followed by dredging them in the panko crumbs.
Heat a thin layer of oil in a large skillet over medium-high heat. Add the tofu to the skillet, in batches if needed. Cook until golden brown, turning once, about 4 minutes per side. Do not overcrowd. Keep warm in a low oven until all the tofu is cooked. Arrange a bed of slaw on four plates and top with the tofu, dividing evenly. Spoon the sauce over the tofu and serve.
Serves 4