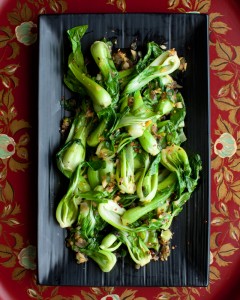 Thanks to all who entered my giveaway to win a copy of Jill Nussinow's new book, Nutrition CHAMPS.  The winner (chosen at random) is Leslie, whose favorite "nutrition champ" is roasted cauliflower!  Congratulations, Leslie — please send me your e-mail address so a copy of the book can be sent to you.
After all this talk about nutrient-packed vegetables, I decided to share my second-favorite way to prepare most veggies (the first being roasted!) — and that's in a spicy stir-fry.
This recipe for Szechuan Bok Choy from Vegan Without Borders uses tender baby bok choy, but it can also be made with other veggies such as broccoli, green beans, or asparagus. Enjoy it as a side dish or make it a one-dish meal by adding strips of extra-firm tofu or seitan and serving it over rice.
Szechuan Bok Choy
This recipe is from Vegan Without Borders by Robin Robertson (c) 2014, published by Andrews McMeel Publishing.
1 tablespoon safflower oil or other neutral vegetable oil
1 1/2 pounds baby bok choy, trimmed and halved lengthwise
3 shallots, minced
2 to 3 cloves garlic, minced
2 teaspoons grated fresh ginger
4 scallions, minced
3 tablespoons soy sauce
1 tablespoon toasted sesame oil
1 tablespoon mirin
1 teaspoon natural sugar
1 teaspoon red pepper flakes
Heat the vegetable oil in a wok or large skillet over medium-high heat. Add the bok choy and shallots and stir-fry for 2 to 3 minutes, or until almost tender. Add the garlic, ginger, and scallions and stir-fry until fragrant, about 30 seconds. Add the soy sauce, sesame oil, mirin, red pepper flakes, and sugar and stir-fry until the bok choy is tender and nicely coated with the sauce, 1 to 2 minutes.
Serves 4