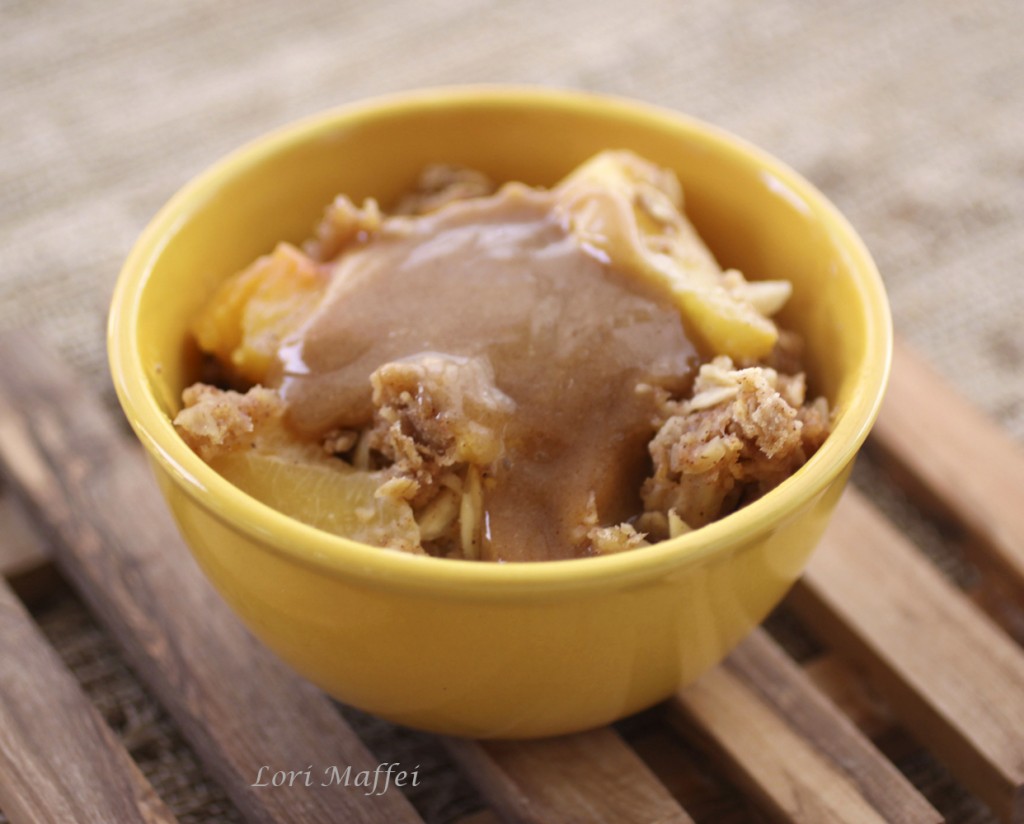 Peach Crisp with Almond Butter Cream is today's recipe in the 30 Days of Vegan Cooking feature to celebrate World Vegan Month.
Peach season may have come and gone, but this recipe can be enjoyed year 'round using frozen peach slices or by substituting fresh seasonal fruit such as apples or pears.  If you use apples, be sure to slice them super-thin so that they cook faster.  Even so, you'll probably need to bake the crisp for about 20 minutes longer if using a "hard" fruit like apple.  I've also tried this crisp with berries and mango — the crunchy topping and creamy sauce are great on all of them!  This dessert is best served warm out of the oven.
Peach Crisp with Almond Butter Cream
from Vegan Planet by Robin Robertson
Serves 8
 Ingredients
6 large ripe peaches, peeled, pitted, and sliced, or 4 cups frozen sliced peaches(or your choice of other sliced fruit)
1/2 cup slivered almonds
1/2 cup plus 1 tablespoon unbleached all-purpose flour
1/2 cup natural sugar ( or more, if needed)
2 tablespoons fresh lemon juice
3/4 teaspoon ground cinnamon or allspice
1/2 cup old-fashioned rolled oats
3 tablespoons neutral vegetable oil
1 recipe Almond Butter Cream (recipe follows)
Directions
1. Preheat the oven to 375°F. Lightly oil a shallow 1 1/2-quart baking dish and set aside.
 2. In a large bowl, combine the peaches, almonds, 1 tablespoon of the flour, 1/4 cup of the sugar, the lemon juice, and 1/4 teaspoon of the cinnamon. (Add more sugar to taste if your fruit isn't especially sweet.) Mix gently and transfer to the prepared dish.
 3. In small bowl, combine the remaining 1/2 cup flour and 1/4 cup sugar, the oats, oil, and remaining 1/2 teaspoon cinnamon. Use your hands or a pastry blender to mix well until crumbly. Sprinkle evenly over the peach mixture and bake on the center oven rack until the fruit bubbles in the middle and the topping is browned, about 30 minutes.
 4. To serve, spoon into 8 individual dishes while still warm and top with a dollop of the almond cream.
Almond Butter Cream
from Vegan Planet by Robin Robertson
Makes about 1 1/2 cups
 Seductively rich and deceptively healthful, this versatile topping can be served on pies, bread pudding, fruit, and even pancakes—just use your imagination.
Ingredients
1/4 cup almond butter
1/4 cup vegan butter
1/2 teaspoon pure vanilla or almond extract
1/2 cup confectioners' sugar
Almond milk, as needed
Directions
Combine the almond butter, vegan butter, and vanilla in a food processor and blend until smooth. Add the confectioners' sugar and process until smooth and creamy. If a thinner consistency is desired, add a little almond milk (up to 1/3 cup) and process until it is incorporated. Use right away or store in the refrigerator, tightly covered, for up to 1 week.
BLOG TOUR REMINDER:  Keep checking back to the One-Dish Vegan Blog Tour post for updated links to the various blogs that are participating.  You will be rewarded with great recipes, photos, and many chances to win a copy of One-Dish Vegan — lots of giveaways going on right now!