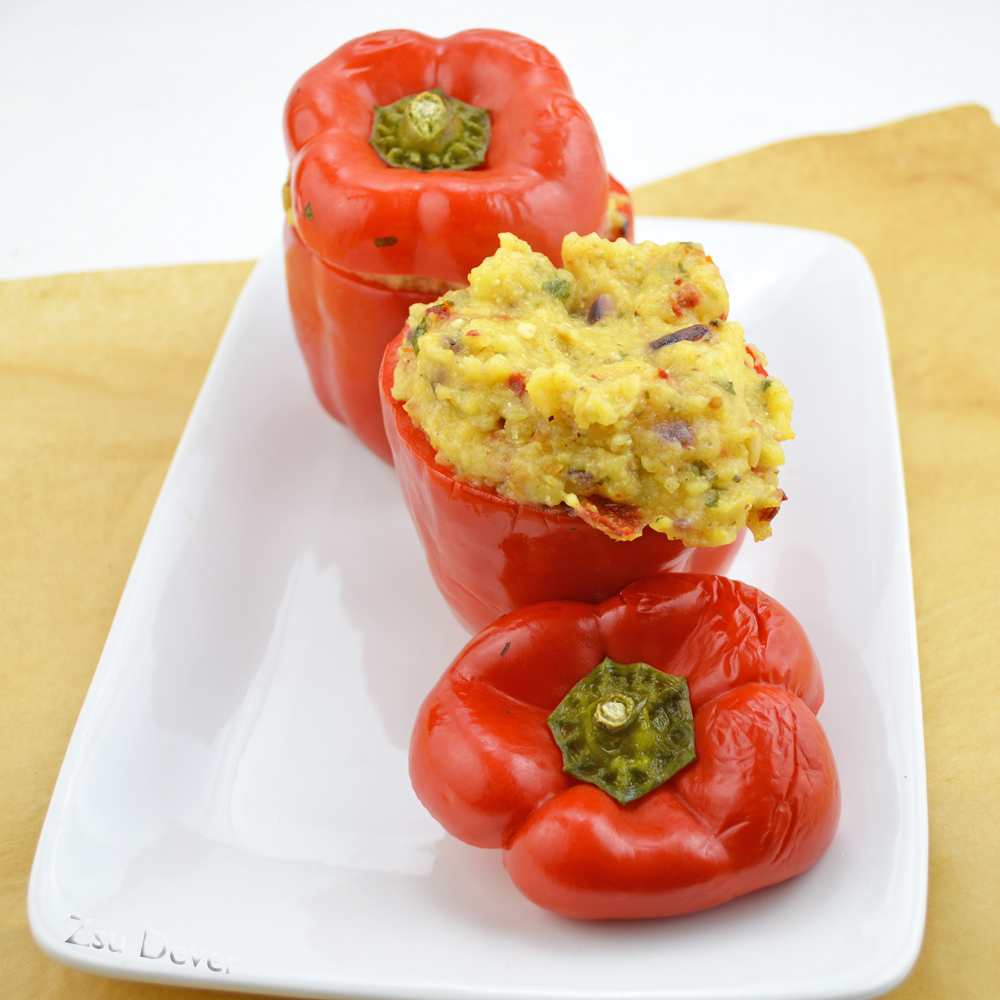 Polenta-Stuffed Red Bell Peppers is today's recipe in 30 Days of Vegan Cooking to celebrate World Vegan Month. 
These bright red peppers stuffed with yellow polenta studded with sun-dried tomatoes are as pretty as a picture—and they taste great, too. For easy cleanup, prepare them ahead of time so you can wash up all the pots and pans. Then, just pop in the oven at dinnertime and bake and serve in the same pan. 
As with all the recipes in this feature, this one is from the Revised Edition of Vegan Planet, to be published in January, but available for pre-order now on Amazon.
Polenta-Stuffed Red Bell Peppers
from Vegan Planet by Robin Robertson
Serves 4
Ingredients
4 cups water
1 1/2 teaspoons salt, plus more for seasoning
2 tablespoons olive oil
1 1/2 cups medium-ground yellow cornmeal
4 large red bell peppers
1 small onion, minced
3 garlic cloves, minced
1/3 cup chopped oil-packed or rehydrated sun-dried tomatoes
1 tablespoon minced fresh parsley
1 tablespoon minced fresh basil
Freshly ground black pepper
Directions
1. In a large saucepan, combine the water, salt, and 1 tablespoon of the oil and bring to a boil over high heat. Reduce the heat to medium and gradually whisk in the polenta, stirring constantly to avoid lumps. Cook, stirring, until the polenta begins to pull away from the sides of the pan, about 15 minutes. Remove from the heat and set aside.
2. Preheat the oven to 350°F. Bring a large pot of water to a boil over high heat. Slice off the tops of the peppers and remove the seeds and ribs. Plunge the peppers into the boiling water and cook until slightly softened, about 3 minutes. Remove from the water with tongs and set aside, cut sides down, to drain.
3. Heat the remaining 1 tablespoon oil in a large skillet over medium heat. Add the onion, cover, and cook until softened, about 5 minutes. Add the garlic and cook, stirring, until fragrant, about 30 seconds.
4. In a large bowl, combine the polenta, onion mixture, tomatoes, parsley, basil, and salt and pepper to taste. Mix well. Fill the peppers with the polenta mixture and place upright in a baking dish. Add a few tablespoons of water to the baking dish, cover, and bake until the peppers are tender and the stuffing is hot, about 30 minutes. Serve hot.