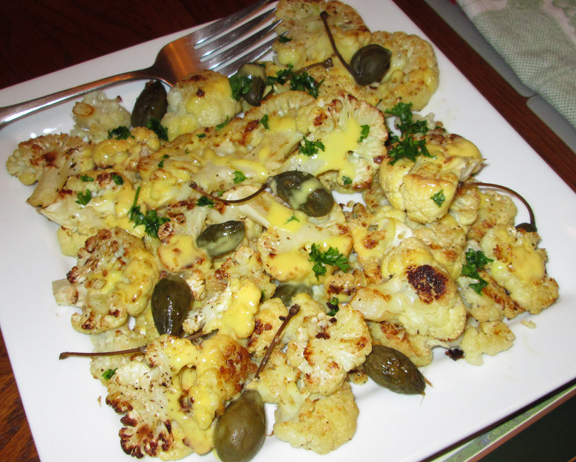 As you probably know if you read my blog or my cookbooks, I'm a fiend for cauliflower — especially ROASTED cauliflower!  It's like it becomes an entirely different (and even more delicious) vegetable when roasted.  So when I added some caper berries while roasting, and then drizzled it with an easy-peasy hollandaise before serving, it became the best-tasting dish of a weekend filled with really great food.  I mean, this stuff has been haunting my dreams, it's so good.
Before I share the recipe, let me tell you a bit about caper berries.The diminutive capers we all know and love are the edible flower buds of the caper bush, but if the caper bud is not picked and is allowed to flower, the resulting fruit will be the rather sizeable (and delicious) caper berry.
You may recall, I have a fondness for caper berries, having stuffed them and wrapped them in pastry in a previous blog post:
Here's the brand of caper berries I use: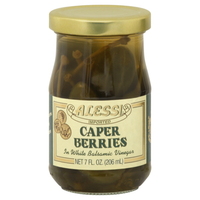 And, for comparison, this shows the relative size of capers and caper berries: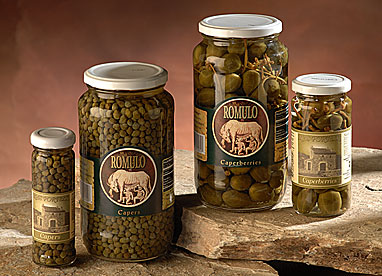 Now, on to the recipe…..
Roasted Cauliflower and Caper Berries with Hollandaise
Serves 4
1 large head cauliflower, core and leaves removed
2 tablespoons olive oil
Salt and freshly ground black pepper
1/3 cup caper berries (see Note)
1/2 cup vegan mayonnaise (use Just Mayo brand, if available)
2 to 3 teaspoons fresh lemon juice
2 teaspoons nutritional yeast (optional)
1/2 teaspoon Dijon mustard
Pinch of ground annatto or turmeric (optional, for color)
Preheat the oven to 425°F. Lightly oil one or two large baking pans or rimmed cookie sheets or spray them with cooking spray.  Set aside.
Place the cauliflower on a cutting board, cored-side down, and use a serrated knife to cut the cauliflower into 1/2-inch slices, as if you were cutting a loaf of bread. Some of the "slices" will fall apart – that's okay.
Arrange the cauliflower slices and pieces on the prepared baking pans and drizzle with the olive oil, then season with salt and pepper to taste. Roast the cauliflower for 15 minutes, then remove from the oven and turn over the pieces with a large metal spatula.  Add the caper berries to the pan, placing them in between the pieces of cauliflower.  Return the pan to the oven and continue roasting until the cauliflower is tender and nicely browned, 10 to 15 minutes longer.
 While the cauliflower is roasting, make the hollandaise. In a small bowl, combine the mayo, lemon juice, nutritional yeast, if using, mustard, and annatto, if using. Stir well until smooth and thoroughly combined.
When the cauliflower and caper berries are done roasting, transfer them to a platter or shallow serving bowl and drizzle with the hollandaise.  Serve hot.
Note:  if you don't have caper berries, you can substitute about 2 tablespoons of regular capers.