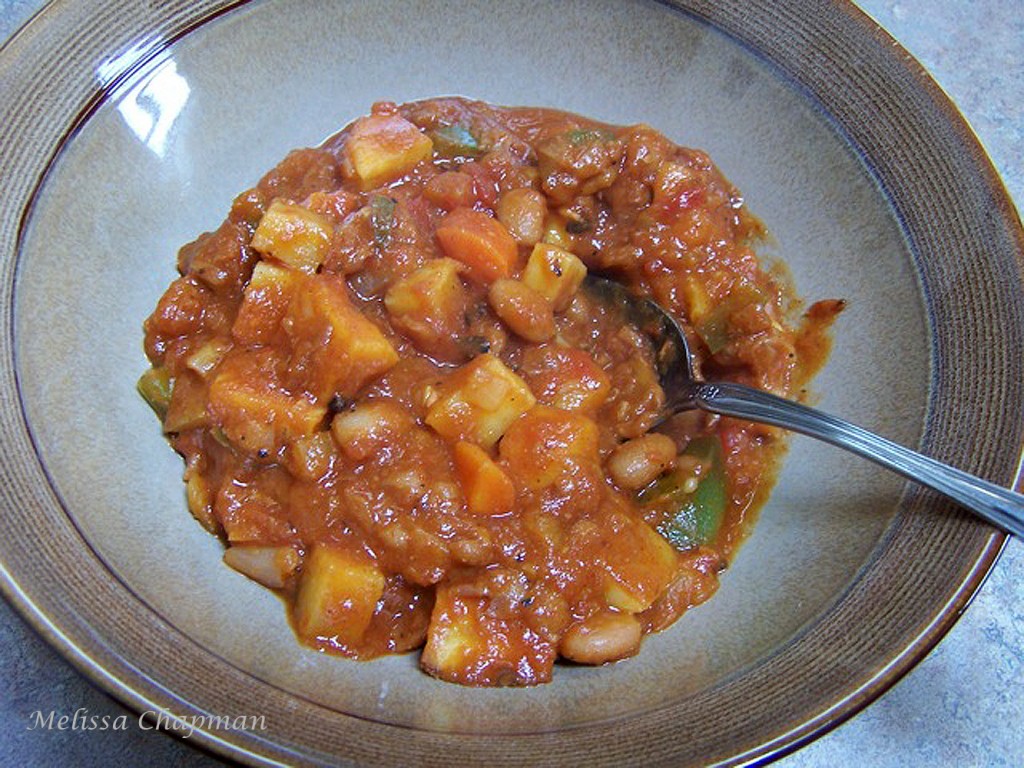 Today is Day #2 of 30 Days of Vegan Cooking featuring recipes from the Revised Edition of Vegan Planet.  The featured recipe is Roasted Root Vegetable Chili.
Roasted Root Vegetable Chili
from Vegan Planet by Robin Robertson
Serves 6
The rich, mellow flavor of roasted root vegetables makes this a perfect choice for a late autumn meal, accompanied by warm cornbread, fresh from the oven. You may peel or not peel the carrots, parsnips, and potato, but as with all vegetables, be sure to wash them thoroughly if left unpeeled.
Ingredients
1 large sweet onion, chopped
2 large carrots, diced
2 medium-size parsnips, peeled and diced
1 large Yukon Gold potato, diced
Salt and freshly ground black pepper
1 tablespoon olive oil or ¼ cup water
1 red or green bell pepper, chopped
3 garlic cloves, minced
1 jalapeño chile, seeded and minced
2 tablespoons tomato paste
2 tablespoons chili powder
1 teaspoon ground cumin
1 (14.5-ounce) can diced fire-roasted tomatoes, undrained
3 cups cooked pinto beans or 2 (15-ounce) cans pinto beans, rinsed and drained
1 cup water or vegetable broth
Directions
1. Preheat the oven to 400°F. Generously oil a large shallow baking pan. Distribute the onion, carrots, parsnips, and potato in the pan. Sprinkle with salt and pepper, tossing to coat. Roast the vegetables, turning once, until softened and lightly browned, 30 to 45 minutes.
2. Heat the olive oil or water in a large pot over medium heat. Add the bell pepper, garlic, and jalapeño and cook, stirring, until fragrant, about 1 minute. Stir in the tomato paste, chili powder, cumin, and 1/2 teaspoon of salt. Add the tomatoes and their juice, pinto beans, and 1/2 cup of the water and bring to a boil. Reduce the heat to a simmer and cook for 20 minutes.
3. When the roasted vegetables are tender, add them to the pot and simmer for 15 minutes to blend the flavors. Add additional water, if needed. Taste and adjust the seasonings, if needed. Serve hot.