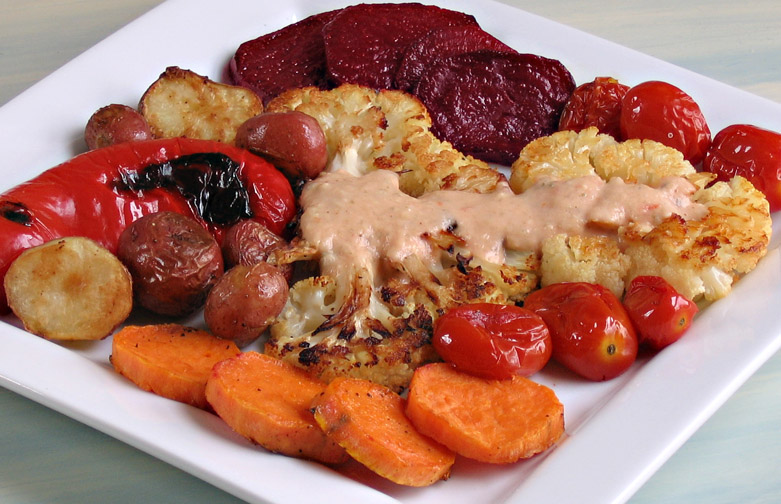 No, you're not seeing double.  The plate of roasted vegetables in the photo is topped with a sauce made of…roasted vegetables!
In honor of today being World Vegetarian Day, the first day of Vegetarian Awareness Month, Meatless Monday, AND the first day of MoFo (vegan month of food), I thought I'd celebrate with a very vegetable-centric dish.  And you can't get much more veg-centric than this: roasted cauliflower, beets, sweet potatoes,red bell peppers, baby red-skinned potatoes, and grape tomatoes.
Roasting vegetables is my favorite way to prepare them.  The roasting method somehow heightens the flavor of the vegetables, making them taste richer, sweeter, and heartier. I often make meals like the one you see in the photo — I figure as long as I'm turning on the oven for one type of vegetable, I might as well roast five or six kinds! On this particular day, I didn't have any "roastable" green veggies on hand, so I served this dish with a big green salad studded with chickpeas and sunflower seeds for extra protein and crunch.
Now, about that sauce… Granted, these delicious vegetables really don't need a sauce, but I wanted to make one anyway.  Into my food processor I combined one piece of roasted potato, one piece of roasted cauliflower, some roasted some onion and garlic, a piece of roasted red bell pepper, and a few roasted grape tomatoes.  I splashed in a little lemon juice, basil, almond milk, and salt and pepper and blended until smooth and creamy.  That's it!  The sauce tasted so good, I could have chugged it right down by itself.
Whenever I hear that people don't like vegetables, all I can think is that they probably never had them roasted!