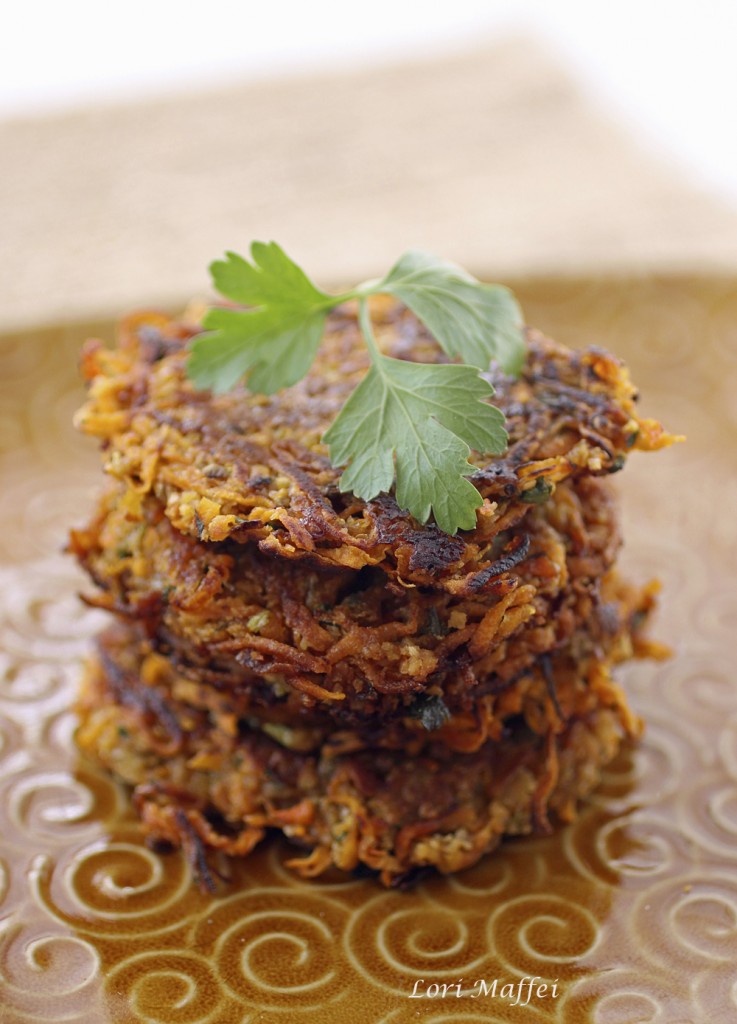 Today's featured recipe  is Shredded Vegetable Fritters.  These fritters are supremely versatile, not just because you can make them using different vegetables, but you can change up the seasonings as well. For example, a dash of curry powder will change their character, as will substituting cilantro for the parsley or adding some minced hot chile.  You can also leave out the cumin and coriander in favor of thyme and sage for a great Thanksgiving side dish.  Depending on how you season the fritters, you can serve them with vegan sour cream, applesauce, chutney, salsa, or cranberry sauce.
I hope you're enjoying this 30 Days of Vegan Cooking feature from the Revised Edition of Vegan Planet.  I'd love to hear what you think so far!
Shredded Vegetable Fritters
from Vegan Planet by Robin Robertson
Serves 4
Use a hand grater or the shredding disk of a food processor to shred the vegetables. If you don't have oat flour on hand, you can grind it yourself in a food processor using rolled oats.
Ingredients
1 small red onion, shredded
1 large sweet potato, peeled and shredded
1 carrot, shredded
3 scallions, minced
1 tablespoon minced fresh parsley
1/2 cup oat flour
1 teaspoon baking powder
1/2 teaspoon ground coriander
1/2 teaspoon salt
1/4 teaspoon freshly ground black pepper
1/4 teaspoon ground cumin
Neutral vegetable oil for frying

Directions
1. Preheat the oven to 250°F. Combine the shredded onion, sweet potato, and carrot in a colander. Press out the liquid and transfer the vegetables to a large bowl. Stir in the scallions, parsley, flour, baking powder, coriander, salt, pepper, and cumin and mix well. If the mixture is too dry, stir in a small amount of plain unsweetened nondairy milk. If the mixture is too wet, sprinkle on a little more flour.
2. Pour a thin layer of oil in a large nonstick skillet and heat over medium-high heat. Scoop out a large spoonful of the vegetable mixture and press against it with your hand to tightly pack. Place the fritter in the hot pan and cook until golden brown on both sides, about 4 minutes per side. Drain the cooked fritter on paper towels, then transfer to the oven to keep warm. Repeat until all of the vegetable mixture is used, adding more oil to the pan as needed. Serve hot.