When it comes to planning a vegan Thanksgiving menu, there are a few different schools of thought.  One is to make a meal as close to the traditional table using vegan ingredients.  For example, the menu could include a centerpiece of your own stuffed seitan roast, or perhaps a Tofurky, Field Roast, or Gardein roast.
The side dishes might include family favorites such as mashed potatoes, sweet potatoes, cranberry sauce,  gravy, extra stuffing, and maybe even a green bean casserole.  A variation on the traditional theme would be to serve a stuffed squash or some kind of loaf as the centerpiece, instead of a roast.  A third option is to make your own tradition with a non-classic meal such as lasagna or maybe a Moroccan bisteeya.
Whatever you decide to make, it will be easier (and more fun for you) if you plan ahead and make as many things in advance as possible. Then you can relax and enjoy your meal with family and friends.
At my house we enjoy the flavors of traditional dishes, even down to a veganized green bean casserole, reminiscent of the kind Jon's family had every year when he was growing up, or you can try my recipe for Deconstructed Green Bean Casserole.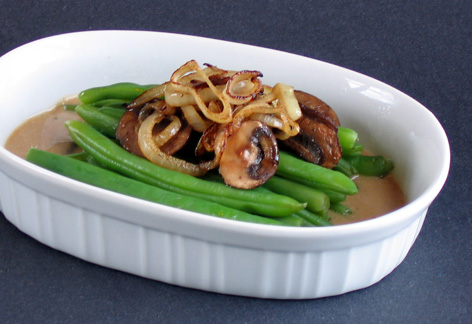 The following are three of my holiday menus.  The first menu is one I shared on Vegan.com (photograph at top).  You can find all the recipes for this menu by going to this link and clicking on each menu item:
— Menu #1 —
Seitan en Croute
Madeira Sauce
Rum-Spiked Sweet Potatoes with Pomegranate Pecans
Triple Cranberry Relish
Roasted Asparagus
Garlic Smashers
Stuffed Winter Squash (optional main dish)
Ginger-Dusted Pumpkin Cheezecake
The following two menus are from Party Vegan where you can find all the recipes:
— Menu #2 —
Chestnut Bisque
Buttercup Squash Stuffed with Wild Rice, Shiitakes, and Caramelized Leeks
Pan Gravy
Roasted Autumn Vegetables
Cranberry-Apple Relish
Pecan-Pumpkin Pie
— Menu #3 —
Mixed Greens with Caramelized Walnuts and Balsamic Pear Vinaigrette
Porcini-Stuffed Seitan with Wild Mushroom Sauce
Herb-Mashed Potatoes
Wilted Baby Spinach with Dried Cranberries
Spiced Two-Apple Tart with Cider Crème
I'll delve into more options and provide additional recipes and tips in upcoming posts.  In the meantime, be sure to enter the Party Vegan Giveaway by leaving a comment in the previous post.
ANNOUNCEMENT: For more Thanksgiving tips, tune into the VegNews Twitter Chat tomorrow (Wednesday, November 14) @ 6pm PT/9pm ET where I will be answering your questions (I'm (@GlobalVegan) on Twitter.) Also on the panel will be Allyson Kramer (@manifestvegan), Hannah Kaminsky (@BitterSweet), Nava Atlas (@navaatlas2), and Ayinde Howell (@AYINDE).