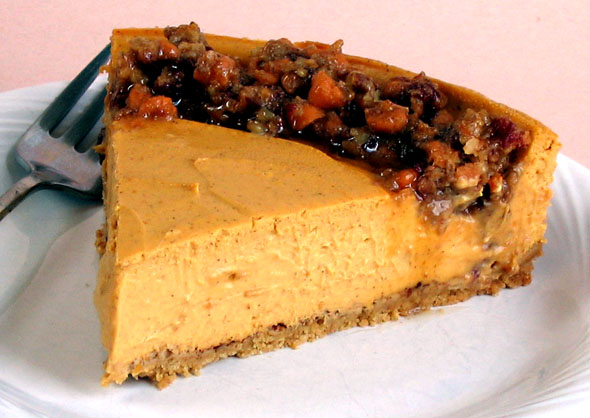 What an amazing variety of great comments we got for the two Party Vegan Giveaways!  Thanks you so much for all who entered — there are so many great ideas for Thanksgiving food (and "etiquette"!).
The winner of the first giveaway is: Dawn, who shared her holiday tips:
 The winner of the second giveaway is Deborah, who had great suggestions on what to bring to an omni Thanksgiving dinner:
CONGRATULATIONS to Dawn and Deborah!  Please e-mail me with your mailing addresses so that we can get a copy of Party Vegan out to you  both.  If I don't hear from you in 48 hours, new winners will be chosen.
I know everyone's busy getting ready for the holiday weekend next week, but be sure to check back on Monday for another great giveaway (I'll give you a hint…it contains 1,000 recipes)!!
P.S. Shown at the top of this post is a gratuitous photo of pumpkin cheesecake with streuselly topping.  Happy Thanksgiving!