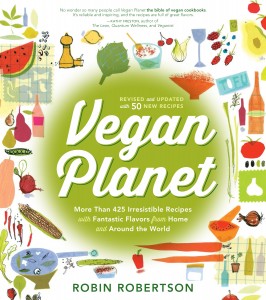 Many thanks to everyone who joined my "Vegan Planet Party" and entered the giveaway to win Vegan Planet aprons and a copy of the book.   I loved reading all of your comments — it's such a great way to celebrate the 10th anniversary of Vegan Planet and the launch of the new revised edition.
Four winners were chosen at random (thanks, Random.org!)
An apron goes to the following three people:
1. Darrell Butner
2. Laura Thompson
3. Mark Hawthorne
A copy of the new Revised Edition of Vegan Planet goes to:
4. Asa Mills
Congratulations to all four of you.  Please e-mail me with your mailing address so your prizes can be sent to you.  If I don't hear from you by Friday, a new winner will be chosen.
Reminder:  During the month of November I posted 30 recipes from the revised edition of Vegan Planet.  If you missed any of them, here's the complete list.  You can find them all here or by clicking on the archive list for November 2013 on the right hand side of this page.
1.                  Penne and Butternut Squash with Kale Pesto
2.                  Roasted Root Vegetable Chili
3.                  Rustic Peasant Loaf with Black Olives and Sun–Dried Tomatoes     
4.                  Ginger-Lemon Tofu
5.                  Three–Onion Appetizer Pie   
6.                  Curried Cauliflower Pakoras
7.                  Scallion Pancakes with Sesame Seeds
8.                  Shredded Vegetable Fritters  
9.                  Tiramisu Cheesecake 
10.              Pasta Puttanesca        
11.              Za'tar–Spiced Bean Patties with Coconut–Curry Sauce
12.              Polenta–Stuffed Red Bell Peppers
13.              Fresh Peach Crisp with Almond Butter Cream
14.              Chickpeas Vindaloo
15.              Crispy Kale
16.              Savory Pumpkin Bites
17.              Three–Flavor Pancit
18.              Flax–Berry Pancakes
19.              Lemon Risotto with Peas and Scallions         
20.              Tempting Tempeh Sandwiches
21.              Banana–Split Tea Bread
22.              Mahogany Eggplant
23.              Red Bean Cakes with Creamy Coconut Sauce
24.              Curried Lentils with Carrots and Peas           
25.              Spinach Frittata
26.              Saffron Couscous Cake with Spring Vegetable Sauté
27.              Brandy-Apple Pie                   
28.              Autumn Roasted Vegetables
29.              Tofu Yung
30.              Smoky Maple Kale and Black Beans