Print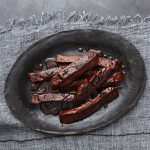 BBQ Seitan Ribs
These lip-smacking strips of deliciousness are messy and fun to eat. I like to serve them out on the deck with potato salad and coleslaw.
In a food processor or large bowl, combine the almond butter, 2 tablespoons of the barbecue sauce, nutritional yeast, garlic powder, onion powder, smoked paprika, salt, pepper, 1 cup of the water, tamari, and 1 tablespoon of the olive oil. Process or stir until smooth and well blended. Add the vital wheat gluten and process or mix until well combined. Add up to 1/3 cup additional water if needed to hold the mixture together. Transfer the dough to a work surface and knead lightly until well combined and the dough feels elastic.

Preheat the oven to 350°F. Grease a 9- x 13-inch baking dish. Flatten the dough into a rectangle about 1/2 inch thick. Cut the dough into 2-inch strips, then cut in half crosswise and arrange them in the prepared baking dish. In a bowl, combine 1 cup of the barbecue sauce with 1 cup of the water and mix well. Pour the sauce mixture over the seitan and cover tightly with aluminum foil. Bake for about 60 minutes, or until the seitan is firm and the sauce has reduced. When the seitan ribs are done baking, remove the baking dish from the oven and increase the oven temperature to 400°F.

Heat the remaining 1 tablespoon oil in a large skillet over medium-high heat. Arrange 3 or 4 seitan ribs in the skillet and sear on both sides, about 2 minutes per side. Do not crowd the pan. Return the seared ribs to the baking dish and sear the remaining seitan. When all the seitan has been seared and returned to the baking dish, pour the remaining 2 cups barbecue sauce over the seitan, turning to coat. Return the pan to the oven and bake, uncovered, until the seitan is nicely glazed with the sauce, about 10 minutes. Serve hot.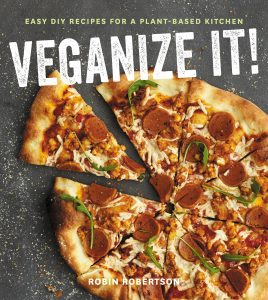 Text excerpted from VEGANIZE IT! © 2017 by Robin Robertson. Reproduced by permission of Houghton Mifflin Harcourt. All rights reserved. Photo by William and Susan Brinson.