Print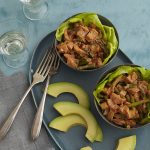 Vegan Crab Louis
The Crab Louis (pronounced "Louie") Salad originated on the West Coast in the early 1900s and remained a fixture on restaurant menus throughout the mid-1900s. In this version hearts of palm replace the crabmeat and vegan mayo is used to make the dressing. This will serve two for lunch, for four as an appetizer.
4

ounces

thin asparagus, cut into 1-inch pieces

3

large hearts of palm, from a jar packed in water

1

teaspoon

sweet paprika

1

teaspoon

Old Bay seasoning

3

tablespoons

vegan mayo

1

tablespoon

lemon juice

2

teaspoons

chopped fresh dill

2

teaspoons

capers, well drained

1

teaspoon

sriracha sauce

2

ripe Hass avocados

Lettuce leaves, to serve
Steam the asparagus until just tender, then rinse in cold water to stop the cooking process. Set aside.

In a medium bowl, combine the paprika and Old Bay, stirring to mix. Set aside. Coarsely chop the hearts of palm add to the spice mixture in the bowl, tossing gently to coat.

In a small bowl, combine the mayo, lemon juice, dill, capers, sriracha, and salt and pepper to taste. Mix well, then add the hearts of palm and reserved asparagus and mix gently to combine. If not serving right away, cover and refrigerate until needed.

When ready to serve, cut the avocados, peel, pit, and cut them in half lengthwise. Cut the avocado halves into lengthwise slices and arrange the slices fanned out on plates lined with lettuce leaves). Mound the hearts of palm mixture on top of the avocado slices. Serve immediately.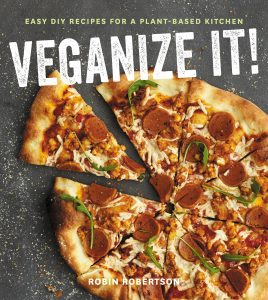 Text excerpted from VEGANIZE IT! © 2017 by Robin Robertson. Reproduced by permission of Houghton Mifflin Harcourt. All rights reserved. Photo by William and Susan Brinson.