Print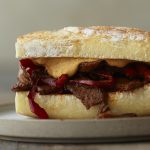 Cheesy Steak-Out Sandwiches
If ever there was a recipe in need of veganizing, it's the Philadelphia cheesesteak sandwich. The good news is, it's easy to do and the result is fantastic. Made with thinly sliced Portobello mushrooms, onions, and bell peppers, this hearty sandwich is then topped with some creamy Cheesy Sauce, and enveloped in a crusty baguette. Note: Thinly sliced seitan may be substituted for the mushrooms.
1

tablespoon

olive oil

1

medium yellow onion, thinly sliced

6

Portobello mushroom caps, thinly sliced

1

red bell pepper, seeded and thinly sliced

1/3

cup

ketchup

1

tablespoon

vegan Worcestershire sauce

Salt and freshly ground black pepper

3/4

cup

Cheddary Sauce

(recipe follows)

1

French baguette, cut into quarters, each quarter sliced lengthwise
Heat the oil in a large skillet over medium-high heat. Add the onion and cook until softened, about 5 minutes. Add the bell pepper and mushroom slices and cook, stirring occasionally, to soften, about 5 minutes. Stir in the ketchup and Worcestershire sauce, and season with salt and pepper to taste. Continue to cook for 5 minutes longer, or until the vegetables are very soft. Spoon about half of the cheddary sauce onto the mushroom mixture and keep warm while you toast the bread. Divide the mushroom mixture among the baguette sections and top each with some of the remaining cheddary sauce. Serve hot.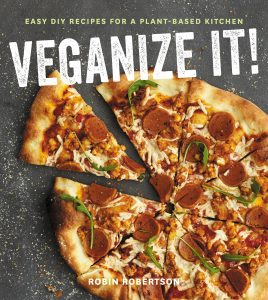 Text excerpted from VEGANIZE IT! © 2017 by Robin Robertson. Reproduced by permission of Houghton Mifflin Harcourt. All rights reserved. Photo by William and Susan Brinson.