Print
Chickpea Flour Omelets
Inspired by the Indian chickpea pancakes, these chickpea flour omelets are amazingly versatile, depending on how you season them. You can add ingredients to cook within the omelet, as is done in an Italian frittata, or you can make a filling to fold inside, like a traditional French omelet. The omelets are also delicious topped with a spoonful of vegan hollandaise or cheesy sauce.
Yields
4
(6-inch) omelets
1

cup

cold water

1

cup

chickpea flour

2

tablespoons

nutritional yeast

1

tablespoon

lemon juice or dry white wine

1/2

teaspoon

salt

1/2

teaspoon

garlic powder

1/2

teaspoon

baking powder

1/4

teaspoon

mustard powder

1/4

teaspoon

ground black pepper

1/4

teaspoon

turmeric

1/2

cup

finely chopped scallions

(green onions)

3

tablespoons

minced fresh parsley or other fresh herb of choice

4

teaspoons

grapeseed oil or cooking oil spray
In a bowl, food processor, or blender, combine the water, chickpea flour, nutritional yeast, lemon juice, salt, garlic powder, baking powder, mustard powder, black pepper, and turmeric and whisk or blend until smooth. Stir in the scallions and parsley. Allow to stand and thicken for 5 to 10 minutes. The mixture should resemble pancake batter. If it is too thick, add a little more water, 1 tablespoon at a time, until the batter is pourable.

Add 1 teaspoon of oil to an 8-inch nonstick skillet or spray it with cooking spray. Heat over medium heat. When the skillet is hot, pour or ladle about 1/3 cup of the batter into the hot skillet and move the skillet to spread it evenly in the pan. Cover tightly and cook until the bottom is lightly browned and there are little holes on top, about 4 minutes. Carefully loosen it with a very thin spatula. Flip and cook for another 3 minutes. Transfer the omelet to an ovenproof platter, cover, and keep warm in the oven while you cook the remaining omelets. Continue to made more omelets until all of the batter and filling are used. Serve hot.
Loaded Frittata (Variation)
Preheat the oven to 400°F. Add 1 cup total of the following ingredients (in any combination) to the omelet mixture:
Chopped pitted Kalamata olives
Soft, minced sun-dried tomatoes
Chopped roasted red bell pepper
Sautéed chopped spinach or thinly sliced zucchini
Sautéed sliced mushrooms
Shredded vegan cheese
Transfer the omelet mixture to an oiled ovenproof skillet or pie plate and smooth it evenly into the pan. Bake for about 30 minutes or until firm and lightly browned along the edges. Remove from the oven and let sit for 5 to 10 minutes before serving.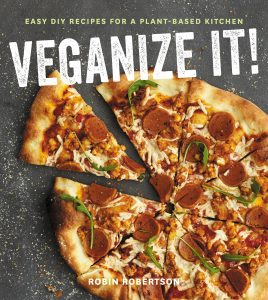 Text excerpted from VEGANIZE IT! © 2017 by Robin Robertson. Reproduced by permission of Houghton Mifflin Harcourt. All rights reserved. Photo by William and Susan Brinson.