Print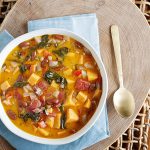 Caribbean Greens and Beans Soup
This soup is inspired by a delicious Jamaican soup made with callaloo (taro) leaves in a light coconut broth. My version calls for the more readily available spinach, although cabbage, kale, or chard may be used instead. The soup has a nice heat from the jalapeños, but you can omit them for a milder flavor or increase them if you want more heat.
1

tablespoon

(15 ml) olive oil or ¼ cup (60 ml) water

1

medium-size red onion, chopped

3

garlic cloves, chopped

2

medium-size sweet potatoes, peeled and diced

1

medium-size red bell pepper, seeded and chopped

1 or 2

jalapeños or other hot chiles, seeded and minced

1

can (14.5 ounces, or 410 g)

of diced tomatoes, drained

1½

cups

(266 g) cooked dark red kidney beans or 1 can (15.5 ounces, or 440 g) of dark red kidney beans, rinsed and drained

4

cups

(950 ml) vegetable broth

2

teaspoons

fresh thyme or 1 teaspoon dried thyme

¼

teaspoon

ground allspice

Salt and freshly ground black pepper

9

ounces

(255 g) baby spinach

1

can (13.5 ounces, or 380 ml)

of unsweetened coconut milk
Heat the olive oil or water in a pot over medium-high heat. Add the onion and sauté for 5 minutes. Add the garlic and cook for 1 minute longer. Add the sweet potatoes, bell pepper, jalapeño, tomatoes, and beans. Stir in the broth, thyme, and allspice and season to taste with salt and pepper. Bring to a boil and then reduce the heat to a simmer and cook until the vegetables are tender, about 30 minutes.

Stir in the spinach and coconut milk, stirring to wilt the spinach. Taste and adjust the seasonings. Cook for 5 to 10 minutes longer to wilt the spinach and blend the flavors. Taste and adjust the seasonings if needed. Serve hot.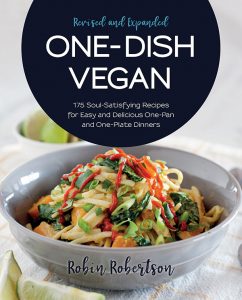 From One-Dish Vegan by Robin Robertson © 2018 Quarto Publishing Group USA Inc. Used with permission.