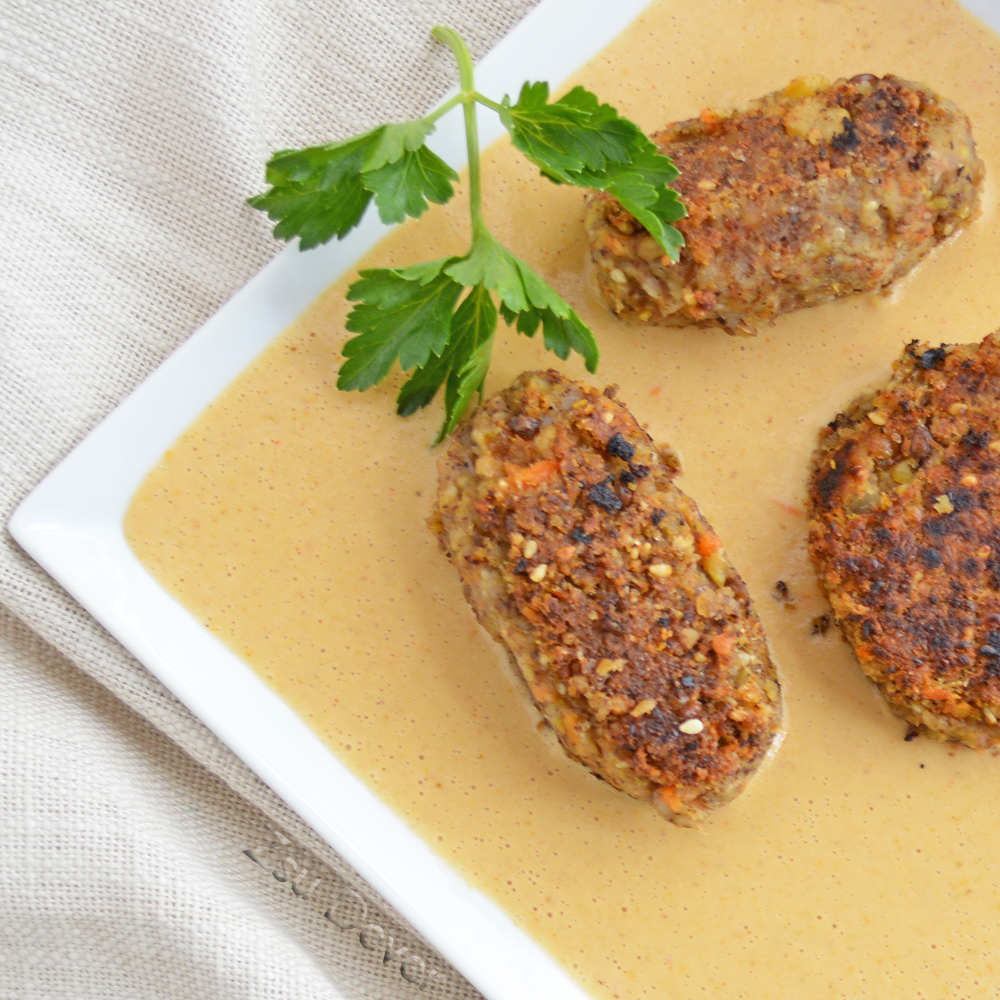 If you're looking for something different and delicious to make for dinner, try these Za'tar-Spiced Bean Patties with a creamy curry sauce.  If you're not familiar with za'tar, it's an herb blend usually made up of sumac, thyme, oregano, and hyssop.  Look for it online or in gourmet shops or specialty markets. The name also can refer to a wild oregano grown in the Middle East. If you cannot find za'tar, substitute a blend of dried thyme, mint, and oregano and you're good to go.
The creamy richness of the sauce is an ideal complement to the spicy bean patties. You can vary the size of the patties according to your preference, from bite-size on up. You also can shape them into balls or logs, if you prefer, and serve them over basmati rice.
This is Recipe #11 in my 30 Days of Vegan Cooking featuring recipes from the soon-to-be-published Revised Edition of Vegan Planet.
Let me know if you're enjoying this feature — I'd love to hear from you.  By the way, if you tried to contact me via my website in the last couple months, I may not have received it due to a technical glitch, so please try again!
Za'tar-Spiced Bean Patties with Curry Sauce
from Vegan Planet by Robin Robertson
Serves 4
 Ingredients
 1 large Yukon Gold potato, peeled and diced
 1 medium-size carrot, chopped
 1 cup cooked or canned brown lentils, well drained
 1 cup cooked or canned chickpeas, rinsed and drained
 1 garlic clove, crushed
 2 tablespoons dried za'tar (see headnote)
 Salt
 2 tablespoons olive oil, divided
 1 small onion, chopped
 1 tablespoon curry powder
 1/2 teaspoon natural sugar
 1/2 teaspoon cayenne
 1/2 cup diced fresh or canned tomatoes, well drained
 3/4 cup plain unsweetened nondairy milk
Directions
1. Steam the potato and carrot over boiling water until tender, about 10 minutes. Set aside to cool. Blot dry.
2. Blot the lentils and chickpeas dry and place in a food processor. Add the potato and carrot, garlic, za'tar, and salt to taste. Pulse to combine, being careful not to overprocess, so that some of the texture remains. Shape into 4 large or 8 small patties. If the mixture is too soft, add a small amount of oats, bread crumbs, or ground nuts.
3. Preheat the oven to 275°F. Heat 1 tablespoon of the oil in a large nonstick skillet over medium high heat. Working in batches, add the patties and cook, turning once, until they are browned on both sides, about 3 minutes per side. Place the browned patties on a baking sheet and keep warm in the oven.
4. Heat the remaining 1 tablespoon olive oil in a medium size saucepan over medium heat. Add the onion, cover, and cook until softened, about 5 minutes. Stir in the curry powder, sugar, and cayenne, then add the tomatoes. Simmer until the tomatoes break up and become saucy, about 5 minutes.
5. Place the sauce mixture in a blender and process until smooth. Add as much of the nondairy milk as needed to achieve the desired consistency. Return the sauce to the saucepan and heat over low heat, then taste and adjust the seasonings, if needed. Serve the patties topped with the sauce.