Print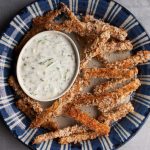 Baked Eggplant Fries
Crunchy and delicious, these "fries" are a surefire way to make an eggplant lover out of just about anyone. And because they're baked, not fried, they're good for you too! Serve them as a side dish or enjoy them as a snack or appetizer. Dipping them in tzatziki sauce is a must.
One

large

eggplant, peeled and sliced vertically into 1/2-inch slices

1/2

cup

flour of choice

(all-purpose, rice, or chickpea are good choices)

1/2

teaspoon

salt

1/4

teaspoon

freshly ground black pepper

1/8

teaspoon

cayenne

1

cup

plain unsweetened almond milk or other nondairy milk

2

tablespoons

ground flaxseed blended with 1/4 cup water in a blender until thick

1

tablespoon

freshly squeezed lemon juice

1

cup

dry bread crumbs

3

tablespoons

nutritional yeast

2

teaspoons

dried oregano

1

teaspoon

dried basil

1

teaspoon

smoked paprika

Tzatziki Sauce, recipe follows, for serving
Cut the eggplant slices lengthwise into 1/2-inch strips. If the strips are too long, cut them in half. Set aside. Preheat the oven to 425°F.

In a shallow bowl, combine the flour, salt, pepper, and cayenne, and mix well. In a second shallow bowl, combine the almond milk and flaxseed mixture, stirring to blend. In a third shallow bowl, combine the bread crumbs, nutritional yeast, oregano, basil, and paprika.

Dredge the eggplant strips in the flour mixture, then dip them in the milk mixture, and then roll them in the breadcrumb mixture. Arrange the strips in a single layer on the prepared baking sheet. Bake for 15 minutes, then flip over and bake for about 10 minutes longer, or until golden brown and crispy. Sprinkle the hot fries with salt. Serve hot with a bowl of the sauce.
This recipe is from Vegan Without Borders © Robin Robertson, 2014, Andrews McMeel Publishing, photo by Sara Remington.