Print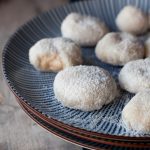 Sesame Mochi
The Japanese confection known as daifuku mochi are small, smooth rice cakes or balls stuffed with a sweet filling. Mochi are made with mochiko, a flour made from ground sweet glutinous rice called mochigome. For daifuku mochi, the rice is pounded into paste, stuffed with a filling (usually sweet red bean paste) and molded into various shapes. They are often coated in a fine layer of cornstarch, potato starch, or confectioners' sugar to keep them from sticking. Note: Glutinous rice flour, also called mochiko, is available at Asian markets or online.
1 1/4

cups

glutinous rice flour (mochiko)

(see headnote)

1/3

cup

sugar

Pinch

salt

1 1/4

cups

almond milk

1/3

cup

sesame paste

1/3

cup

cooked white beans

2

tablespoons

confectioners' sugar

2

tablespoons

toasted sesame seeds

Coconut flour or finely ground unsweetened coconut, for dusting
In a heatproof bowl, combine the flour, sugar, and salt. Stir in the almond milk and mix well. Cover with plastic wrap and microwave for 5 minutes, then uncover and set aside to cool for 5 minutes. Cut into twelve pieces.

In a food processor, combine the sesame paste, white beans, confectioners' sugar, and sesame seeds and mix well. Set aside.

Dust your hands with coconut flour, then flatten each piece of mochi into a small disk. Place 1 1/2 teaspoons of the sesame mixture in center of each piece of mochi. Pinch closed to seal, then lightly roll it into a ball, using both palms. Repeat with the remaining mochi and filling.

Pour about 1/2 cup of coconut flour into a shallow bowl. Roll the balls in the coconut flour to keep the mochi from sticking. Transfer to a plate and serve. Mochi will keep for up to 2 days at room temperature. If not using right away, they will keep in the freezer for up to 2 weeks. Do not refrigerate, or they will become hard.
This recipe is from Vegan Without Borders © Robin Robertson, 2014, Andrews McMeel Publishing, photo by Sara Remington.