200 Ultra-Convenient, Super-Tasty, Completely Animal-Free Recipes
by Robin Robertson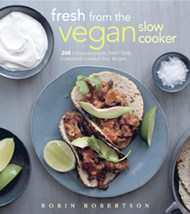 Robin's thorough revision and expansion of her ground-breaking Fresh from the Vegetarian Slow-Cooker offers new recipes and plenty of surprises.  The book includes eleven recipe chapters, four of which focus on main courses.
Here you'll find all the convenience and deep flavors of slow-cooking with Robin's homey and comforting meals in the traditions of North America, Latin America, Europe, and Asia. Here are some recipe highlights:
Rustic Pot Pie Topped with Chive Biscuits
Ziti with Mushroom and Bell Pepper Ragu
Crockery Cassoulet
Greek-Style Beans with Tomatoes and Spinach
Seitan Stroganoff
18 robust chilis and stews
Other chapters are devoted to snacks and appetizers, desserts, breads and breakfasts, and even drinks.  The many soy-free and gluten-free recipes are clearly identified.  Altogether, the collection offers readers loads of ways to expand their vegan repertoire and to get maximum value from their investment in a slow-cooker.
Paperback, 324 pages, Harvard Common Press