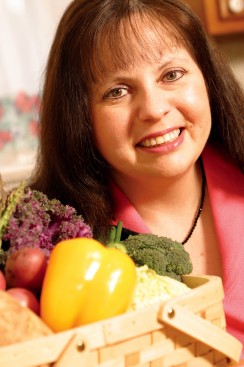 Robin Robertson worked for many years as a restaurant chef in Pennsylvania and Charleston, South Carolina before she began writing cookbooks.  In 1988, she left the restaurant business and became vegan for ethical reasons.  She then rededicated her life to writing and teaching others about vegan cooking.
Over the years, she has fine-tuned her plant-based diet into an eclectic and healthful cooking style which she thinks of as a creative adventure with an emphasis on the vibrant flavors of global cuisines and fresh ingredients.
Robin is the author of  more than 20 cookbooks, including the bestselling Vegan Planet, 1,000 Vegan Recipes, Veganize It!, Vegan on the Cheap, Quick-Fix Vegan, One-Dish Vegan, and Vegan Without Borders.
She also wrote "The Global Vegan" column for VegNews Magazine for 10 years and was a contributing editor and columnist for Vegetarian Times. She has also written articles for Cooking Light, Natural Health, Better Nutrition, Restaurant Business, and other magazines.
Robin Robertson has the professional experience in classic, contemporary, international cuisines to show you how to use plant-based ingredients to make the family favorites you grew up with and learn the secrets of exotic international cuisines, too.
Robin lives in Virginia's Shenandoah Valley with her husband Jon and numerous felines.  You can contact her through this site. She can also be found on Facebook and Twitter.