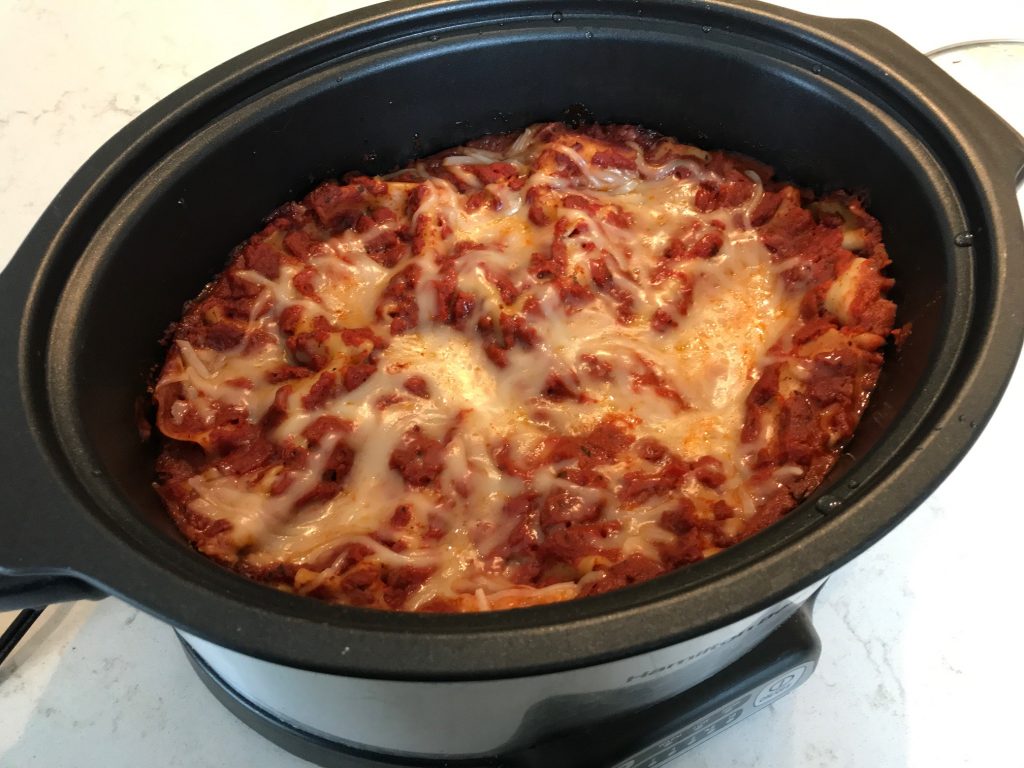 The slow cooker is my go-to cooking method for lasagna.  Because it's made with dried lasagna noodles (no need to pre-boil), assembly is a cinch. Plus, you can assemble it well in advance and refrigerate until needed.  Then, just set it and forget it!
I'm posting this easy version just in time for the holidays.  It's a great idea for Christmas dinner because you can relax and enjoy the day while it cooks, without worrying about it burning or spilling over in the oven.
For another version, with more vegetables, try the Lasagna Primavera recipe in The Plant-Based Slow Cooker.  But if you want a more basic lasagna, this one's for you.  You can leave out the spinach if you prefer, but I like the added greens.  (Plus red and green is so Christmas-y!)You can use your own homemade tomato sauce or storebought marinara sauce in a jar (you may need to use a jar and a half to make it sauce enough).
Lasagna in a Slow Cooker
For best results, use a large oval slow cooker. You may need to break the noodles to conform them to the shape of the slow cooker. To make gluten-free, use gluten-free lasagna noodles. I use regular dry lasagna noodles – no need to pre-boil. The added water is absorbed by the dry noodles and softens them as it cooks.
SERVES 6
SLOW COOKER SIZE: 5- TO 6-QUART
COOK TIME: 4 TO 5 HOURS
GLUTEN-FREE OPTION
12 ounces soft tofu, drained
1 pound firm tofu, drained
1 (10-ounce) package frozen chopped spinach, thawed and squeezed dry
1/3 cup nutritional yeast
1 teaspoon onion powder
1 teaspoon garlic powder
1 teaspoon dried basil
1 teaspoon dried oregano
1 teaspoon sea salt
1/2 teaspoon ground black pepper
4 to 5 cups of your favorite tomato sauce for pasta (or a large jar of marinara sauce)
1/2 cup water
1/3 cup dry red wine (optional)
1 package vegan mozzarella shreds (such as Violife or Daiya)
8 ounces uncooked lasagna noodles (about 9 noodles)
Crumble all of the tofu into a large bowl. Add the spinach, nutritional yeast, onion powder, garlic powder, basil, oregano, salt and pepper. Mix well, then taste to make sure the mixture has enough salt and pepper.
Spread a layer of marinara sauce into the bottom of the slow cooker. Stir in the water and wine (if using). (The extra liquid will be absorbed by the dried noodles as they cook). Arrange a layer of the noodles over the sauce, breaking pieces to fit, as needed.
Top the noodles with about one-third of the tofu mixture, followed by a sprinkling of the mozzarella, and another layer of noodles. Spread a layer of marinara sauce over the noodles. Repeat the layering two more times, ending with a layer of marinara sauce topped with the remaining mozzarella. Put the lid on the slow cooker and cook on High for 4 hours or until the noodles are tender.
Remove the lid, turn off the cooker, and let the lasagna stand for about 15 minutes before serving.