The Ultimate Vegan Cookbook!
by Robin Robertson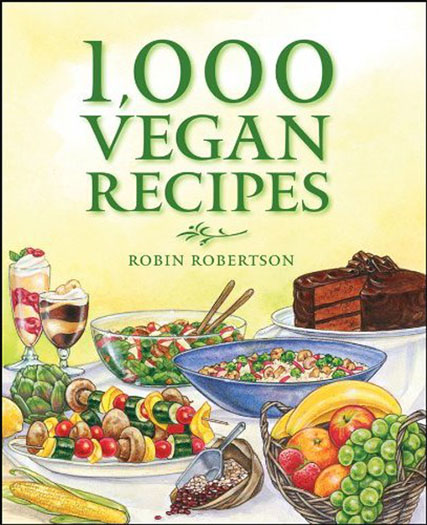 Perfect for beginner vegans, long-time vegans, or anyone trying to eat meatless meals a few times a week, 1,000 Vegan Recipes is the most definitive, creative, and dependable guide available for making delicious vegan meals.
In this new masterwork, Robin Robertson shares a wealth of tips, techniques, and ideas for creating lively vegan cuisine. Home cooks will find an inspiring variety of recipes from a diverse range of cultures for simple weeknight dinners to weekend indulgences, from comfort food to sophisticated restaurant dishes.
You will want to try these recipes from 1,000 Vegan Recipes:
Asparagus Wrapped in Phyllo
Lemony Lentil and Rice Soup
Tricolor Rotini with Pesto Bianco
Rustic Cottage Pie
Seitan and Potato Torta
Zataar Spiced Flatbread
Roasted Vegetable Strudel
Green Tea Rice with Lemon Snow Peas, and Tofu
Tamarind Chickpea Stew
Burritos Benedict
White Chocolate Hazelnut Pie
Fresh Fruit Sushi
You'll also appreciate how quick recipes (30 minutes or less) are identified with an icon and that many of the dishes are kid-friendly and satisfying for even the pickiest of eaters. Whether you are a full-time vegan or not, you will enjoy the healthy, ethically and environmentally responsible—and delicious—eating found in this comprehensive cookbook for vegans and everyone else, too.
Hardcover, 640 pages, John Wiley & Sons, Inc.