200 sultry and full-flavored recipes from around the world
by Robin Robertson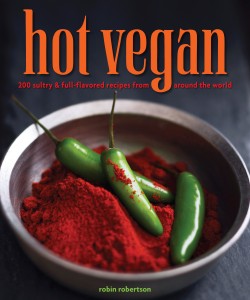 Take a trip around the world with delicious, mouth-watering, meatless, dairy-free, and egg-free recipes ranging from mildly spiced to nearly incendiary. Explore the spicy vegan cuisines of the U.S., South America, Mexico, the Caribbean, Europe, Africa, the Middle East, India, and Asia with:
Red-Hot White Bean Chili

Tunisian Couscous

Vindaloo Vegetables

Moroccan Tagine

Spicy Szechuan Noodle

Turkish Bulgur Pilaf

Jambalaya

Thai Coconut Soup

Penne Arrabbiata

Satays with Ginger Peanut Sauce
Organized by global region, this book offers inventive and delicious spicy vegan recipes of traditional dishes using readily available ingredients. Best of all, the recipes are designed so you can adjust your own heat tolerance allowing you to enjoy it hot – or not. With the bold and scintillating recipes of  Hot Vegan, you can travel the globe without ever leaving home – while still enjoying meals that are healthy, cholesterol-free, 100% vegan.
Paperback, 256 pages, Andrews McMeel Publishing
NOTE:  Hot Vegan is a revised updated edition of Vegan Fire & Spice.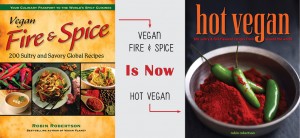 ---
Praise for Vegan Fire & Spice
"Want a hot, spicy trip around the world? Save the money on airfare and instead splurge on Robin Robertson's latest work, Vegan Fire & Spice. Already a prolific cookbook author, Robertson tackles some fairly uncharted territory for us vegans, culinarily speaking. From classic dishes like Spicy Rotini Primavera to the truly exotic Vietnamese "fish" Sauce, the heat index can be adjusted to personal taste. Forget the armchair; stovetop traveling is far spicier." (VegNews Magazine March-April, 2008)
"Whether you like your food mildly seasoned or boldly spiced, Vegan Fire & Spice will be a go-to book for great-tasting and healthful global vegan recipes." (Neal Barnard, M.D., president of Physicians Committee for Responsible Medicine and author of Food for Life)
"Hands down, the most flavorful vegan cookbook in print. Vegan Fire & Spice brings together authentic, wonderfully spiced dishes from every continent. If you're tired of making vegan recipes that don't bring the thunder, you need this cookbook in your kitchen." (Erik Marcus, Publisher of Vegan.com and author of Meat Market: Animals, Ethics, & Money)
"Vegan Fire & Spice is like a trip around the world without leaving home. This culinary travel guide belongs in every kitchen and you don't have to stand in line to clear security." (Howard F. Lyman, author of No More Bull!)
"Vegan Fire & Spice has the makings of another Robin Robertson classic. Her talent for adapting international cuisines for the everyday cook, and giving them her unique stamp, shines through in every recipe in this collection." (Nava Atlas, author of Vegan Express and The Vegetarian Family Cookbook)
"With Fire & Spice Robin Robertson presents a tour of hot and savory cooking from around the world. Robin has done the investigative work to find delicious fiery dishes from Szechuan, Thailand, India, and others, and showcases many naturally vegan dishes. She translates non-vegan dishes using vegan ingredients, yet still honoring their original flavors." (Ken Bergeron, Vegan Certified Executive Chef; author of Professional Vegetarian Cooking)