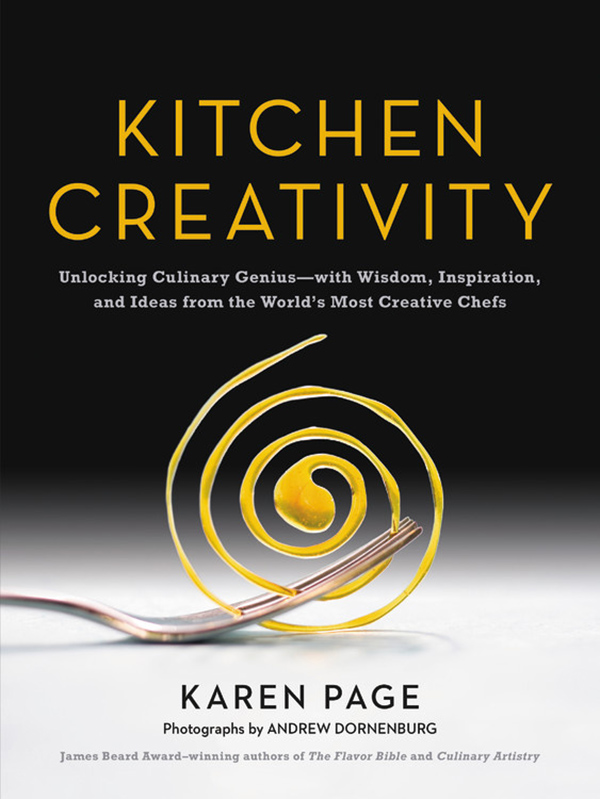 In a break from my usual recipe posts, I'd like to share an excerpt from Karen Page's new book entitled Kitchen Creativity.
Beyond a cookbook, Kitchen Creativity is a guide to inventive cooking (without recipes!) that will inspire you to think, improvise, and cook like the world's best chefs. Great cooking is as much about intuition and imagination as it is about flavor and technique. Kitchen Creativity gives insights into these creative processes from more than 100 top restaurant kitchens, including the Bazaar, Blue Hill, Daniel, and Dirt Candy.
Based on four years of research and dozens of in-depth interviews, Kitchen Creativity illuminates the methods of culinary invention. Part I reveals how to learn foundational skills, including how to appreciate, taste, and season classic dishes before reinventing the classics from a new perspective. Part II's A-to-Z entries are an invaluable culinary idea generator, with exercises to prompt new recipe ideas and combinations.
While not a cookbook, nor a vegan book, for that matter (although vegan chefs and ingredients are very well represented), Kitchen Creativity has a lot to offer for cooks looking to broaden their creativity in the kitchen.  The following is an excerpt from Kitchen Creativity on one of my favorite topics, umami…

"Umami" from Kitchen Creativity by Karen Page

The taste of umami is imparted by glutamate, a type of amino acid discovered in 1908 by Dr. Kikunae Ikeda of Tokyo Imperial University. In studying kombu (kelp), Ikeda managed to isolate glutamate as its own compound, giving it the name of umami, which translates as "savoriness." Thus, 5,000 years after the discovery of salt, and 4,000 years after the discovery of sugar, and 3,500 years after the discovery of sour (vinegar), umami is a relatively new taste concept. Japanese cooks had been using umami-rich ingredients intuitively for centuries, long before their scientific properties were discovered to enhance flavor.
While we first mentioned umami in our 1996 book Culinary Artistry, it did not begin to gain more widespread acceptance until after 2000 when glutamate receptors were discovered on the tongue. The main sources of umami are those deriving from 1) the amino acid glutamate (found in, e.g., kelp); and those deriving from 2) so-called "nucleotides"—such as a) adenylate (aka AMP, which is found primarily in fish and shellfish), b) guanylate (aka GMP, which is found primarily in plants and fungi, e.g., shiitake mushrooms, esp. dried), and c) inosinate (aka IMP, which is found primarily in meat and fish, e.g., bonito flakes).
The big umami magic happens when one or more nucleotides are combined with glutamate, as there is a synergistic affect—resulting in umami with as much as eight times the potency.
Umami Dynamics
Umami can enhance a bland dish's appeal with mouth-filling savoriness. Umami can also enhance a dish's perceived sweetness, while tempering its perceived bitterness. If you find yourself with too much of a good thing when it comes to umami, try balancing with salty, sweet, bitter, acidic, or piquant ingredients.
Umami is a taste that tends to linger on the palate—something referred to as a "long finish" in the wine world. Because it contributes to the qualities of deliciousness and satiation, umami is especially prized as a taste in dishes and menus.
Note: Certain herbs and spices can also emphasize a dish's savory aspects, such as bay leaf, cumin, oregano, paprika, sage, and thyme.
Using Umami
Chefs praise black garlic (aka fermented garlic) for its ability to add depth and earthiness to dishes ranging from vegetables to meats.
If you doubt umami's importance as one of the five primary tastes, consider the fact that leading chefs like Michael Anthony, Eric Ripert, and Jean-Georges Vongerichten believe dashi to be a key component of their cooking. Some chefs use it to replace liquids in countless preparations, from brines to broths to salad dressings.
Chefs have rising enthusiasm for all manner of fermented ingredients (e.g., fermented soybeans, kimchi, miso, pickles, sauerkraut), which bring umami to dishes including vegetables.
The corn smut known as huitlacoche is prized as a Mexican delicacy, not only by chefs cooking in the vernacular like Rick Bayless, but also mainstream chefs who find themselves using it in quesadillas, soups, and tacos. Sean Brock declares is "insanely delicious and luxurious, like black truffles."
Kombu (aka kelp, the sea vegetable) is prized for its umami by Yoshihiro Narisawa.
Brad Farmerie is fanatical about miso, which allows him to achieve a rich mouthfeel without butter or cream. Miso is an integral part of Farmerie's roasted chile caramel Brussels sprouts, which involve caramelizing sugar (sweet) before adding chiles (hot), cilantro stems (bitter), lime juice (sour), fish sauce (salt/umami), and miso (richness). He adds miso to sweet potatoes + brown butter + rosemary to create another dish he's not able to take off the menu. Other chefs will add misos (e.g., white) to salad dressings or soups for an umami boost.
From his time in Japan, Michael Anthony picked up a love of "sea weeds and pickles."
Thomas Henkelmann describes rich, flavorful stocks as "essential" for cooking in every season.
Umeboshi paste is prized by chefs, including Isa Chandra Moskowitz of Omaha's and Brooklyn's Modern Love, for its umami quality. Moskowitz adds it to her Caesar salad dressing for its anchovy flavor.
Even native Brits like Mark Levy fall prey to the charms of white truffles, which he prizes for their mysterious aroma and short availability.
Excerpted from Kitchen Creativity: Unlocking Culinary Genius—with Wisdom, Inspiration, and Ideas from the World's Most Creative Chefs by Karen Page (Little, Brown, October 31, 2017).
SaveSave
SaveSave