More than 150 Soul-Satisfying Recipes for Easy and Delicious One-Bowl and One-Plate Dinners
by Robin Robertson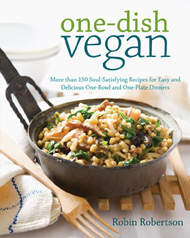 One-dish meals are perennially popular on American tables, and my One-Dish Vegan is the first book at the intersection of vegan and one-dish resulting in delicious meals that are healthy and convenient.
One-Dish Vegan contains more than 150 recipes, ranging from the most popular categories of one-dish dining like stews, chilis, and casseroles (and other baked dishes) to a host of stovetop sautés and stir-fries as well as substantial salads and dishes that feature pasta and noodles.
Recipes include:
Chickpea Noodle Soup
Jamaican-Style Coconut Rice Bowl
Frittata Puttanesca
Quinoa and Lentils with Butternut Squash and Rapini
Risotto Primavera
Spinach Alfredo Linguine
Cuban Black Beans and Rice
Eggplant Lasagna
Texas Too-Hot Chili
Roasted Sweet Potato and Black Bean Salad
The recipes are at once homey and adventuresome, comforting and surprising. Above all, they demonstrate that it really is possible to get a complete vegan meal into one dish, full of good-for-you nutrients and bright, satisfying flavors.
Paperback, 208 pages, Harvard Common Press