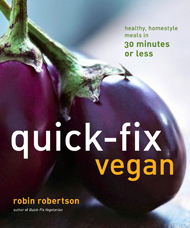 Here is a sampling of recipes from Quick-Fix Vegan:
Hummamole
Easy, delicious, and lower in fat and higher in protein than regular guacamole, this hummus-guacamole hybrid is also just a bit different than your average hummus. In addition to making a great dip, it also makes a yummy spread for wrap sandwiches.
1 (15-ounce) can chickpeas, rinsed and drained

2 garlic cloves, crushed

1 ripe avocado, peeled and pitted

1 tablespoon tahini

1 tablespoon fresh lemon juice, or to taste

1/2 teaspoon ground cumin

1/4 teaspoon salt

Pinch cayenne

1 tablespoon chopped fresh cilantro, optional garnish
1. Combine all the ingredients (except the cilantro, if using) in a food processer and process until smooth. Taste and adjust the seasonings. If a thinner consistency is desired, blend in up to 2 tablespoons of water.
2. Transfer to a bowl. Sprinkle with the cilantro, if using. Serve at once or cover and chill until needed.
Makes about 2 1/2 cups
Vietnamese Tofu Wraps
These flavorful wraps have all the bold flavors and textures of bahn-mi sandwiches, but without the French bread. .
1 tablespoon neutral vegetable oil

1 pound extra-firm tofu, drained and cut into 1/4-inch strips

3 tablespoons hoisin sauce

2 tablespoons soy sauce

1 teaspoon sriracha, plus more for serving

4 (10-inch) flour tortillas or other flatbread

Vegan mayonnaise

1 cucumber, peeled, seeded, and thinly sliced

1 carrot, shredded

1 cup fresh cilantro leaves

2 tablespoons chopped bottled jalapenos
1. Heat the oil in a skillet over medium heat. Add the tofu and cook until golden brown, turning frequently, 7 to 10 minutes. Add the hoisin, soy sauce, and the 1 teaspoon of sriracha, stirring gentle to coat the tofu.
2. Remove from the heat and set aside to cool.
4. To assemble the wraps, spread the tortillas with vegan mayo and drizzle with sriracha to taste. Arrange one quarter of the tofu strips down the center of each of the tortillas. Top with cucumber, carrot, cilantro, and jalapenos. Roll up each wrap tightly and serve at once.
Serves 4
Spicy Smoked Portobello Tacos
Finely chopped Portobello mushrooms have the perfect texture for taco filling. Their ability to absorb the smoky hot flavors of the chipotle-infused sauce insures a wonderful flavor as well. Assemble the tacos any way you like, with salsa, chopped tomato, or the cooling contrast of avocado or vegan sour cream.
2 chipotle chiles in adobo, finely minced

2 tablespoons soy sauce

1 1/2 tablespoons agave nectar or maple syrup

1/2 teaspoon liquid smoke, or to taste

1/4 teaspoon smoked paprika

1 tablespoon olive oil

4 to 5 large Portobello mushrooms, finely chopped

8 (7-inch) flour tortillas, warmed

2 cups shredded lettuce

1 cup tomato salsa

1 large ripe tomato, chopped

1 ripe avocado, peeled, seeded, and chopped
1. In a small bowl, combine the chiles, soy sauce, agave, liquid smoke, and paprika. Set aside.
2. Heat the oil in a skillet over medium heat. Add the mushrooms and cook, stirring until the mushrooms soften and most of the liquid they release is evaporated.
3. Add the reserved sauce, stirring to mix well. Cook a few minutes longer to heat through and blend the flavors.
4. Transfer the mushroom mixture to a bowl and serve with the warm tortillas and bowls containing the lettuce, salsa, tomato, avocado, and sour cream. Assemble the tacos as desired.
Serves 4
Tiramisu Parfaits
Now you can enjoy tiramisu without the fuss. These parfaits have all the luscious creamy coffee and chocolate flavor of tiramisu in a fraction of the time. If you don't have parfait glasses, martini glasses are a good choice, but any small dessert dishes will suffice.
Note: This dessert tastes best (and firms up a bit) if allowed to chill in the refrigerator for an hour or two, but is also perfectly yummy if eaten right away.
1/2 cup hot black coffee

1/3 cup sugar

1 (8-ounce) container tofu cream cheese

1/3 cup cashew butter

1 teaspoon vanilla extract

8 to 12 vegan shortbread cookies

1/4 cup Kahlua or other coffee liqueur

Cocoa powder, for dusting
1. Combine the coffee and sugar in a small bowl, stirring to dissolve the sugar. Set aside to cool.
2. In a blender or food processor, combine the cream cheese, cashew butter, vanilla, and the reserved coffee mixture. Blend until smooth and creamy.
3. Break a cookie into the bottom of each of 4 parfait glasses or other dessert glasses. Drizzle each with 1 teaspoon of Kahlua and top with a spoonful of the cream cheese mixture. Repeat with the layering of the cookies, Kahlua, and cream cheese mixture, until the glasses are full, ending with a layer of the cream cheese mixture, dusted with cocoa powder.
4. Serve at once or refrigerate and serve chilled.
Serves 4