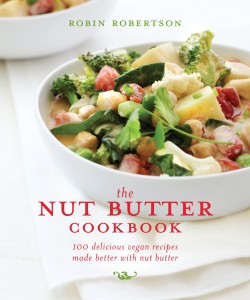 Here's a sampling of recipes from The Nut Butter Cookbook:
Roasted Sweet Potato Salad with Almond Butter
Gluten Free
Soy Free
Serves 4
This colorful dish is both a nice change from regular potato salad and an unusual way to serve sweet potatoes. Almond butter provides a creamy richness to the dressing and toasted almonds add crunch. This recipe is from Nut Butter Universe: easy vegan recipes with out-of-this- world  flavors by Robin Robertson © 2013, Vegan Heritage Press.
1 1/2 pounds sweet potatoes
1 tablespoon olive oil
1 cup frozen baby peas, thawed
2 scallions, minced
1/2 cup pineapple or orange juice
1/4 cup almond butter
Salt and ground black pepper
2 tablespoons toasted slivered almonds
Preheat the oven to 400°F. Peel the potatoes and cut them into 1/2-inch dice. Toss with the olive oil and spread on a baking sheet. Roast the potatoes until tender but still firm, about 30 minutes. Allow to cool, then place in a large bowl. Add the peas and scallions, and set  aside.
In a small bowl, combine the juice, almond butter, and salt and pepper to taste. Blend well, then pour the dressing over the potato mixture, stirring gently to combine.
Sprinkle with the almonds and serve right away, or cover and refrigerate until ready to serve.
Indonesian Gado-Gado
Serves 4 to 6
Gado-Gado is an Indonesian main-dish salad composed of raw and cooked vegetables tossed with a spicy peanut sauce. The flavor improves with time, so plan on making this crunchy salad the day before you need it. This recipe is from Nut Butter Universe: Easy Vegan Recipes with Out-of-This-World Flavors by Robin Robertson.
1 tablespoon neutral vegetable oil or 1/4 cup water
2 shallots, chopped
1 large clove garlic, chopped
1/2 cup peanut butter
1 1/2 tablespoons wheat-free tamari
1 1/2 tablespoons fresh lemon juice
1 teaspoon natural sugar
1/4 teaspoon cayenne
3/4 cup unsweetened coconut milk
2 cups green beans, cut into 1-inch lengths
1 cup small cauliflower florets
2 carrots, shredded
2 cups shredded cabbage
1 cup fresh bean sprouts
1/3 cup roasted peanuts
Heat the oil or water in a skillet over medium heat. Add the shallots and garlic. Cover and cook until softened, about 5 minutes. Stir in the peanut butter, tamari, lemon juice, sugar, cayenne, and coconut milk. Simmer over low heat for 2 minutes, stirring to blend.
Transfer the mixture to a blender or food processor, or use an immersion blender, and puree until smooth, adding water or more coconut milk to thin, if needed.
Steam the green beans and cauliflower just until tender and place them in a large bowl. Add the carrots and cabbage. Pour the sauce over the vegetables and toss to combine. Sprinkle the bean sprouts and peanuts on top. Cover and refrigerate until ready to serve.
Penne Primavera with Avocado Cashew Cream
I like to use penne pasta in this recipe, but any bite-sized pasta will work well. This dish is best if eaten immediately after prepared since the sauce may begin to turn brown if made in advance. Use gluten-free pasta to make this gluten-free.
Gluten-Free Option
Soy Free
Serves 4
12 to 16 ounces penne pasta
1 1/2 cups small broccoli florets
1 small carrot, thinly sliced
1 small zucchini or yellow squash, cut into 1/4-inch dice
1/2 cup raw cashews, soaked overnight and drained
1 to 2 garlic cloves, crushed
1 cup hot vegetable broth or water, or more if needed
1 to 2 ripe Hass avocados, halved and pitted
2 scallions, chopped
2 tablespoons lemon juice
1/2 teaspoon salt
ground black pepper
Plain unsweetened almond milk, if needed
1 cup grape tomatoes, halved lengthwise
1/3 cup chopped fresh basil leaves or parsley
Whole fresh basil leaves, for garnish
Cook the penne in a large pot of salted boiling water, stirring occasionally, until it is tender, about 10 minutes. About 5 minutes before the pasta is cooked, add the broccoli and carrots. About 2 minutes before the pasta is cooked, add the zucchini. Drain the cooked pasta and vegetables well and return to the pot.
While the pasta is cooking, combine the drained cashews, garlic, and broth in a high-speed blender or food processor. Process until smooth and well blended. Peel and pit the avocado and add it to the food processor along with the scallions, lemon juice, salt, and pepper to taste. Process until smooth and creamy. For a thinner sauce, add some almond milk, if needed. For a thicker sauce, add additional avocado. Taste and adjust the seasonings, if needed.
Add the sauce to the pot containing the drained cooked pasta and vegetables. Add the tomatoes and chopped basil and toss gently to combine. Serve immediately, garnished with the whole basil leaves.