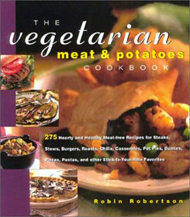 Here's a sampling of recipes from The Vegetarian Meat and Potatoes Cookbook:
Oyster Mushroom Chowder
The creamy oyster mushroom has a slightly "seafood" taste and a texture similar to oysters. Kelp flakes, or ground kelp, are available in shaker containers in natural food stores. Sprinkled on the chowder, it makes a lovely garnish while adding a nutritious taste of the sea.
2 tablespoons olive oil

1 small yellow onion, chopped

1 celery stalk, chopped

2 large white potatoes, peeled and diced

4 cups vegetable stock

3/4 teaspoon minced fresh thyme or l/8 teaspoon dried

1/2 teaspoon salt

1/8 teaspoon cayenne

1 1/2 cups soy milk

2 tablespoons cornstarch dissolved in 1/4 cup water

8 ounces oyster mushrooms

1/4 teaspoon Old Bay seasoning

Kelp flakes (optional)
Heat 1 tablespoon of the oil in a large saucepan over medium heat. Add the onion and celery. Cover and cook until softened, about 5 minutes. Add the potatoes, stock, thyme, salt, and cayenne and bring to a boil. Reduce heat to low and simmer until the potato is soft, about 15 to 20 minutes. Transfer 1 cup of the mixture to a food processor and puree until smooth. Return the mixture to the soup and stir in the soy milk. Heat to a simmer and stir in the cornstarch mixture, stirring to thicken. Slice or quarter any larger mushrooms, leaving the smaller ones whole or halved. Heat the remaining 1 tablespoon of oil in a medium skillet, add the mushrooms, sprinkle with the Old Bay seasoning and cook for 1 minute. Add the mushrooms to the soup, taste to adjust seasonings, and serve. Garnish with kelp flakes if desired.
Serves 4
Cranberry-Pistachio Scones
Cranberries and pistachios add a festive touch to these scones based on my husband Jon's classic recipe which is made with golden raisins instead of the red and green additions.
2 cups unbleached all-purpose flour

3/4 cup sugar or a natural sweetener

2 teaspoons cream of tartar

1 teaspoon baking soda

3/4 teaspoon salt

1/2 cup softened soy margarine

1/3 cup dried cranberries

1/4 cup shelled unsalted pistachio nuts

1/4 cup soy milk

Egg replacement mixture for 2 eggs
1. Preheat the oven to 400 degrees. In a bowl, sift the flour, sugar, cream of tartar, baking soda, and salt. Using a pastry blender, blend in the margarine until the mixture resembles coarse crumbs. Add the cranberries, pistachios, soy milk, and egg replacer for 2 eggs. Mix gently with a fork until just blended. Do not overwork.
2. Divide the dough in half and transfer to a floured surface. Using a rolling pin, flatten each piece of dough to 1/2-inch thickness. Cut the dough into 3-inch triangles and place on a lightly greased and floured baking sheet. Bake for 12 minutes or until golden brown. Serve warm.
Makes 16 scones
Fauxscargot (Shiitake Mushrooms in Angel Hair Pasta Nests)
Mushroom morsels, sauteed in garlicky olive oil, and nestled in coiled strands of pasta.
1/4 cup olive oil

3 garlic cloves, minced

1 tablespoon minced shallot

12 to 24 small shiitake mushroom caps

1/2 teaspoon dried oregano

1/2 teaspoon dried basil

1/3 cup dry white wine, sherry, or mirin

1 teaspoon fresh lemon juice

1 tablespoon minced fresh parsley

Salt and freshly ground black pepper

2 cups hot cooked angel hair pasta
1. Heat oil in skillet over medium heat. Add garlic & shallot. Cook until fragrant, 30 seconds.
2. Add mushrooms, oregano, basil, wine, lemon juice, parsley, and salt&pepper to taste. Simmer until mushrooms are tender & liquid reduces slightly, about 2 minutes. Keep warm.
3. To serve, use a fork to twirl a few hot pasta strands around it into a coil. Carefully transfer the "nest" onto small plate or hollow of escargot dish. Tuck a mushroom into the center. Repeat with remaining pasta & mushrooms until you have enough to serve. Drizzle hot garlic-herb sauce over each. Serve hot.
Note: To save time, assemble in advance & reheat when ready to serve.
Serves 4
Baby Spinach Salad with Baked Tofu & Crispy Slivered Shallots
This salad can also be made with toasted pine nuts and dried sweetened cranberries may be used as garnish instead of the tomatoes.
2/3 cup extra-virgin olive oil

1/4 cup balsamic vinegar

1 teaspoon Dijon mustard

1 large garlic clove, crushed

Pinch sugar

Salt and freshly ground black pepper

6 to 8 cups fresh baby spinach

4 ounces baked tofu, cut into 1/4 inch dice

1 cup grape or cherry tomatoes, halved

Crispy Slivered Shallots (recipe follows)
1. Blend oil, vinegar, mustard, garlic, sugar, and salt & pepper in a small bowl or jar. Set aside.
2. Toss greens with enough dressing to lightly coat, then divide them among serving plates. Arrange tofu or bacon, and tomatoes on top and drizzle with more dressing, if desired. Scatter shallots over top and serve.
Serves 4
Crispy Slivered Shallots
2 shallots, halved lengthwise

3 tablespoons olive oil
1. Cut the shallots halves lengthwise into very thin slices and separate them into slivers. Pat dry.
2. Heat the oil in a skillet over medium-high heat. Add the shallots and cook, stirring constantly, until crisp. Remove from the pan and drain on a paper towel before using.
Makes about 1/2 cup
Vegetarian Brunswick Stew
This fresh interpretation of a Southern favorite tastes even better the day after it's made. Crumbled tofu or TVP (textured vegetable protein) may be used instead of vegetarian burger crumbles. Liquid Smoke is a hickory flavoring which is stirred in near the end of the cooking time to add a pleasant smoked nuance to the stew. It is available at natural food stores. Vegetarian Worcestershire sauce, available in natural food stores, is made without anchovies.
1 tablespoon olive oil

1 package vegetarian sausage links, cut into 1/2-inch pieces

1 yellow onion, finely chopped

1 celery stalk, minced

1 large white potato, diced

2 garlic cloves, minced

1 1/2 teaspoons grated fresh ginger

3 1/2 cups vegetable stock or water

1 (15-ounce) can diced tomatoes

1 (16-ounce) package frozen succotash

3 tablespoons vegetarian Worcestershire sauce or tamari soy sauce

2 teaspoons prepared mustard

1 teaspoon light brown sugar

1/2 teaspoon ground allspice

1/2 teaspoon Tabasco

Salt and freshly ground black pepper

1 (12-ounce) package frozen vegetarian burger crumbles

1/2 teaspoon Liquid Smoke
1. Heat the oil in a large saucepan over medium heat. Add the "sausage" links and cook until browned, about 5 minutes, stirring occasionally. Remove the sausage from the pot and set aside.
2. Reheat the oil in the saucepan and add the onion, celery, potato, garlic, and ginger. Add 1/4 cup of the stock or water, cover, and cook until softened, about 5 minutes, stirring occasionally. Remove the lid, add the remaining stock or water and stir in the tomatoes, succotash, Worcestershire sauce or tamari, mustard, sugar, allspice, Tabasco, and salt and pepper to taste, and bring to a boil. Reduce heat to low and simmer, uncovered, until the vegetables are tender, about 45 to 50 minutes, stirring occasionally. During the last 10 minutes of cooking time, add the reserved "sausage," the vegetarian burger crumbles, and the Liquid Smoke.
Serves 4 to 6