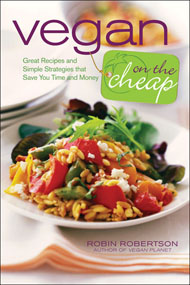 Here's a sampling of recipes from Vegan on the Cheap:
Penne-Wise Peanutty Pasta
Here's a great way to get a delicious dinner on the table in a few minutes that the whole family will love. (Just omit the red pepper flakes if you have young children).
2 garlic cloves, crushed

2 green onions, chopped

2 teaspoons grated ginger

4 ounces silken tofu

1/3 cup creamy peanut butter

1/4 cup soy sauce 2 tablespoons rice vinegar

1 tablespoon dark sesame oil

1 tablespoon ketchup

2 tablespoons light brown sugar

1/2 teaspoon red pepper flakes (optional or to taste)

1 1/2 cups soy milk

12 ounces penne pasta

2 carrots, cut into very thin coins

2 cups small broccoli florets

2 tablespoons minced fresh parsley or cilantro

1/4 cup crushed peanuts
1. In a blender or food processor, combine the garlic, green onions, and ginger. Process until well minced. Add the tofu, peanut butter, soy sauce, vinegar, sesame oil, ketchup, sugar, pepper flakes (if using), and soy milk. Blend until smooth. Set aside.
2. Cook the pasta in a pot of boiling salted water until al dente, about 10 minutes. About halfway through, add the carrots and broccoli to the boiling pasta. Drain the pasta and vegetables well and return to the pot.
3. Pour the reserved sauce into the pot containing the pasta and vegetables. Toss to combine and cook over medium heat, stirring occasionally to heat through, about 5 minutes. Taste and adjust seasonings. Serve hot, sprinkled with parsley and peanuts.
Serves 4
Vegetable Crisp
Inspired by the delightful peach and apple crisps, this savory version also has a crunchy crumbly topping. You can vary the ingredients according to what's in season or on sale. For example, if eggplant is expensive and zucchini is on sale, omit the eggplant and double up on the zucchini. If fresh basil is at a premium, use fresh parsley augmented by some dried basil. I prefer using a red bell pepper in this dish, but if they're too expensive, you can use a green one.
The vegetables:
3 tablespoons olive oil

3 tablespoons sherry vinegar

3 garlic cloves, minced

3 tablespoons fresh basil, chopped

1/2 teaspoon dried marjoram

1/2 teaspoon dried thyme

1/2 teaspoon salt

1/4 teaspoon freshly ground black pepper

1 large red onion, halved lengthwise and cut into paper thin slices

1 large eggplant, peeled and cut into 1/4-inch slices

3 medium zucchini, cut diagonally into 1/4-inch slices

3 large Portobello mushroom caps, cut into 1/2-inch slices

2 large ripe tomatoes, cut into 1/4-inch slices
The topping:
1 cup fresh breadcrumbs

2 tablespoons nutritional yeast

2 tablespoons chopped fresh parsley

1 teaspoon dried thyme

1 teaspoon dried basil

1/2 teaspoon dried marjoram

2 tablespoons olive oil

2 teaspoons fresh lemon juice

1/4 teaspoon salt

1/4 teaspoon freshly ground black pepper
Preheat the oven to 425 degrees F.
1. In a small bowl, whisk together oil, vinegar, garlic, basil, oregano, salt and pepper.
2. Brush the oil and vinegar mixture onto both sides of the sliced vegetables. Place all the vegetables except the tomatoes on large baking sheets (they can overlap slightly, but keep each type of vegetable separate). Bake until softened, about 15 minutes.
3. In a bowl, combine the topping ingredients, stirring to mix well.
4. Lightly oil a 9-inch baking dish or medium gratin dish. When the vegetables come out of the oven, set aside until cool enough to handle. Reduce the oven temperature to 375 degrees F.
5. Arrange a layer of the eggplant slices on the bottom of the prepared baking dish; top with a layer of onion, followed by the mushrooms, zucchini, and tomatoes. Drizzle with any remaining oil and vinegar mixture and repeat the layering until all the vegetables are used. Sprinkle the reserved topping mixture over vegetables. Bake for 30 minutes.
Serves 4
Smokey Joes
I like to use seitan to make this spicy version of sloppy joes, but you can also use frozen crumbled tofu, grated tempeh, or cooked bulgur to good effect.
8 ounces seitan

1 tablespoon olive oil

1/2 cup minced onion

1/2 cup minced green bell pepper

2 garlic cloves, minced

1 tablespoon soy sauce

1/2 cup ketchup

1 tablespoon tomato paste

1/4 cup water, or more

1 or 2 chipotle chiles in adobo sauce, finely minced

1 teaspoon dark prepared mustard

1 tablespoon chili powder

1/2 teaspoon smoked paprika

1/2 teaspoon Liquid Smoke

1/2 teaspoon salt

1/4 teaspoon freshly ground black pepper
1. Shred or finely chop the seitan and set it aside.
2. Heat the oil in a saucepan over medium heat. Add the onion and bell pepper, cover, and cook until softened, about 10 minutes. Add the garlic and cook 30 seconds longer. Stir in the reserved seitan and the soy sauce and cook for 2 to 3 minutes to lightly brown.
3. Stir in the ketchup, tomato paste, water, chipotle chile, mustard, chili powder, paprika, Liquid Smoke, salt, and pepper. Mix well, adding a little more water if the mixture is too dry. Simmer for 5 minutes to blend flavors.
4. When ready to serve, spoon the hot mixture onto rolls and serve hot.
Serves 4
Caramel Baked Apples
This home-style dessert is basically baked apples stuffed with bread pudding and topped with a luscious caramel sauce. A scoop of vanilla makes a great addition, in which case you may want to serve only one stuffed apple half per person instead of two.
For the apples:
1 1/2 cups finely chopped bread

1/4 cup finely chopped walnut pieces

1/3 cup light brown sugar

1 1/2 teaspoons ground cinnamon

1 tablespoon melted vegan margarine

1/4 cup apple juice or soy milk

4 Granny Smith apples
For the sauce:
1/2 cup light brown sugar

1/4 cup vegan margarine

1/3 cup soy milk

1 1/2 tablespoons pure maple syrup

1/2 teaspoon pure vanilla extract
1. In a bowl, combine the bread, walnuts, brown sugar, cinnamon, melted margarine, and apple juice or soy milk. Stir until well blended. Set aside.
2. Grease a 9-inch baking dish and set aside. Halve and core the apples and arrange them, cut side up, in the prepared baking dish. Spoon an equal amount of the bread mixture onto each apple half and use your fingers to press the mixture firmly into each apple. Set aside. Preheat the oven to 350 degrees F.
3. For the sauce, combine the brown sugar and margarine in a saucepan over medium heat, stirring until the sugar is dissolved and the margarine is melted. Stir in the soy milk and maple syrup and bring just to a boil. Remove from heat and stir in the vanilla.
4. Spoon about half of the sauce mixture over the apples and set the remaining sauce aside. Cover the baking dish tightly with aluminum foil and bake until the apples are tender, about 40 minutes, or longer, depending on the size of the apples.
5. To serve, arrange 1 or 2 apple halves in a shallow dessert bowl and drizzle with some of the remaining sauce. Repeat with the remaining ingredients.
Serves 4 to 8