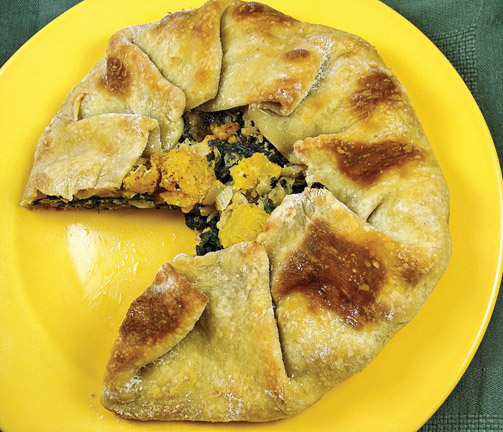 It's "Bryanna Day" on my blog today with a giveaway of World Vegan Feast: 200 Fabulous Recipes from Over 50 Countries by Bryanna Clark Grogan and the sharing of her fabulous recipe for Italian Rustic Squash and Kale Tart.  Shown above, this tart is among my favorite recipes in World Vegan Feast, and that's saying something, because I happen to love this book.  Filled with recipes from around the world, many of them are recipes you won't find anywhere else, all developed with the care and detail that makes Bryanna's recipes so special.
I love to pick up World Vegan Feast and read it like a novel — it's filled with interesting anecdotal information and cooking tips written in Bryanna's friendly voice, that makes you feel like you're talking to your neighbor over coffee — if your neighbor happened to be a fabulous vegan chef and food expert.
Just a few of my other favorite recipes in World Vegan Feast include: Sizzling Saigon Crepes, Peruvian-Style Crispy Tofu and Cabbage Salad, Creole Grits and Grillades, Swarma Wraps, Maple-Chocolate Shoofly Pie, and Triple-Ginger Cake with Espresso Frosting.  If you enjoy baking bread, you will not want to miss Bryanna's International Bread Sampler — a chapter filled with incredible bread recipes from around the world.
COOKBOOK GIVEAWAY: I think everyone should have a copy of World Vegan Feast, so I'm going to do my part and give a copy to at least ONE lucky person.  To enter the giveaway, here's all you need to do:  simply leave a comment at the end of this post listing your favorite comfort food.  A winner will be chosen on Friday, October 19 at 9 o'clock AM, Eastern time and announced later that day.  Don't delay, enter now!  For additional chances to win, you can also do any or all of the following and then leave another comment telling me what you did.
1. Link to this giveaway on Twitter.
2. Link to this giveaway on Facebook.
3. Link to this giveaway on your blog.
Now here's that recipe from World Vegan Feast.  When I make this, I add a little garlic (because I'm Italian and I love garlic!) and some white beans (for added protein to make this a "one-dish" meal).  It's absolutely fabulous and can be easy to put together, especially if you have leftover squash in the fridge.
Italian Rustic Squash and Kale Tart
Serves 4
It's hard to believe that this vegetable filling can taste so "meaty," but it does in this absolute winner of a dish! The crispy olive oil pastry (a traditional, frugal peasant recipe designed to use as little expensive olive oil as possible) is easy to make and low in fat (about 1/2 tablespoon of olive oil per serving). If you want to make a larger tart, double both the filling and the pastry recipes and bake it on a 14-inch pizza pan. Recipe is from World Vegan Feast by Bryanna Clark Grogan (c) 2011.
Pastry:
1 cup unbleached white flour (do not use pastry flour)
1/2 teaspoon salt
2 tablespoons olive oil
1/3 cup ice-cold water
Filling:
4 ounces kale, tough stems removed, washed, drained and sliced 1/4-inch thick
1 tablespoon olive oil
1 medium onion, chopped
4 to 5 green onions, chopped
6 ounces butternut squash (or other "meaty" winter squash), peeled, and cut in 1/2-inch dice
3 tablespoons walnut parmesan  or finely chopped toasted walnuts
salt and freshly ground black pepper
 Pastry: Whisk together the flour and salt in a medium bowl. Drizzle in the oil and mix with your fingers or a fork. Dribble in the cold water slowly, mixing with a fork as you go. When it holds together, knead it gently into a ball, cover with plastic wrap or a damp cloth and refrigerate for at least 30 minutes.
 Filling: Steam the squash until just tender. Steam the kale until tender, then cool it under cold running water, drain it and then squeeze as much water out of it as you can. Chop the kale with a sharp knife.
Heat the olive oil in a large nonstick skillet over medium-high heat and add both kinds of onions. Stir-fry until tender. Add the kale and squash, Walnut Parm, and salt and pepper to taste. Set aside. Preheat the oven to 375ºF.
On a lightly-floured piece of baking parchment, roll the pastry out into a thin 14-inch circle. Carefully transfer the rolled-out dough onto an oiled 10-inch pie pan (see Tip). Pile the filling in the middle of the dough and spread it out evenly. Bring up the edges around the filling to make a "freeform" pie, pleating the dough over the Filling and leaving an open circle of filling in the center.
 Brush the dough with a little olive oil and cover the exposed filling with a circle of foil. Bake the tart for 30 to 45 minutes or until the dough is golden. Cut into wedges to serve. It's good hot, warm, or cold.
Tip: To transfer fragile pastry dough into a pan without tearing, flour the top of the circle lightly and then gently fold it in half and then in half again. Gently lift the pastry into the pie pan, letting the edges of the pastry overhang the edge of the pan. Carefully unfold the dough. Another way is to lightly flour the pastry and roll it up loosely around a rolling pin. Use the rolling pin to transfer the dough to the pan and unroll the pastry over the pan.