If my cats could cook, I'd want them to make me this Ka-pow Tofu for Mother's Day.  Since I know that's not going to happen, and I know I'm not going to drive for an hour to the nearest Thai restaurant on Sunday, I guess I'll be doing the cooking (as usual).  I'll let Jon have some, but none for the cats.  They don't like spicy foods.  Instead my little darlings can let me celebrate Mother's Day and their birthdays all on the same day.  Since I don't know any of their actual birthdays, I always celebrate them on Mother's Day because these fur babies (Gary and Mitzki and Simon and Benny Mae) are the greatest gifts I could ever ask for.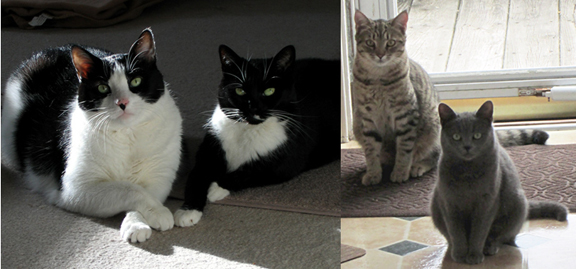 Now here's that recipe in case you want to try it — it's from 100 Best Vegan Recipes.  I hope you enjoy!
"Ka-Pow" Tofu
Serves 4
When I order tofu kaprao in my favorite Thai restaurant, I know it will contain the wonderfully fragrant Thai basil.  I also know it will pack a spicy punch, so I've come to call it "ka-pow."  Serve over jasmine rice.  If the sublime Thai basil is unavailable, there's no exact substitute, although you could use regular basil or cilantro and still have a tasty meal.  Vegan oyster sauce (sold as vegetarian oyster sauce or mushroom soy sauce) is available at Asian markets or online. If you can't find it, leave it out and add a little extra soy sauce.
1 pound extra-firm tofu, drained and patted dry
Salt and freshly ground black pepper
2 tablespoons cornstarch
2 tablespoons soy sauce
1 tablespoon vegan oyster sauce
1 teaspoon rice vinegar
1 teaspoon sugar
1/2 teaspoon hot red pepper flakes
2 tablespoons grapeseed oil, divided
1 sweet yellow onion, halved lengthwise and thinly sliced
1 red bell pepper, thinly sliced
3 scallions, chopped
1/2 cup Thai basil leaves
Cut the tofu into 1-inch cubes and place in a bowl.  Season with salt and pepper, sprinkle with the cornstarch, and toss to coat.  Set aside. In a small bowl, combine the soy sauce, oyster sauce, vinegar, sugar, and red pepper flakes. (The amount of red pepper flakes you use will depend on how hot they are and how spicy you like your food.) Stir well to combine and set aside.
Heat 1 tablespoon of the oil in a large skillet over medium-high heat. Add the reserved tofu and cook until golden brown. Remove from the skillet and set aside.
Heat the remaining oil in the same skillet. Add the onion and bell pepper and stir-fry until softened, about 5 minutes.  Add the scallion and cook 1 minute longer.  Stir in the reserved tofu, the reserved sauce, and the basil and stir-fry until hot, about 3 minutes.