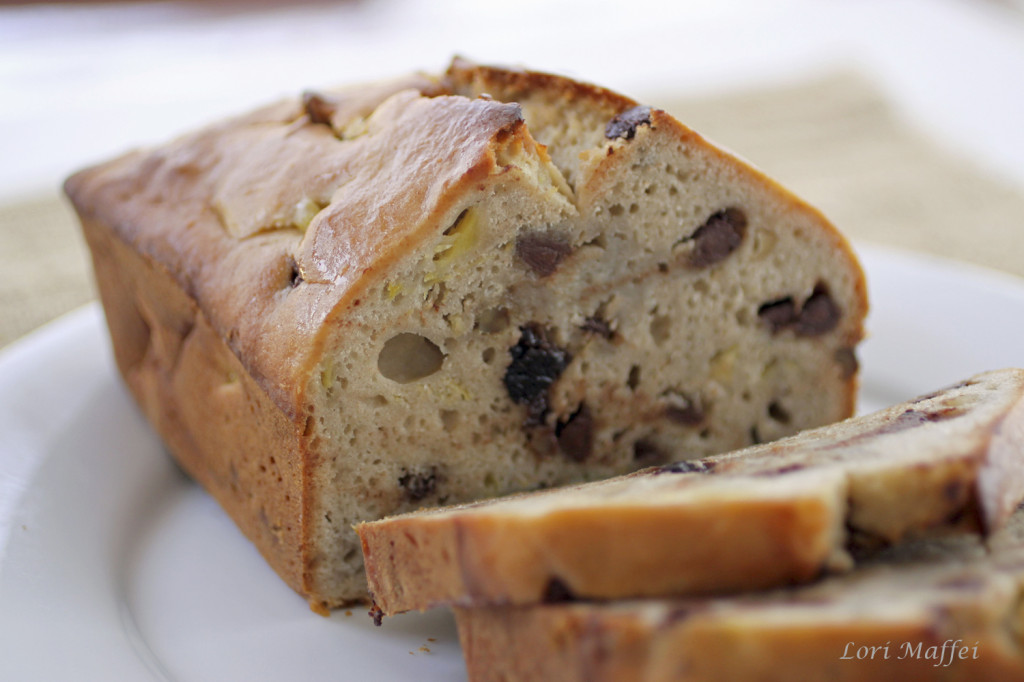 Today's featured recipe is Banana Split Tea Bread — a delicious way to use up those over-ripe bananas!  What sets this flavorful banana bread apart from the rest is that it incorporates several banana-split ingredients for a surprising treat and lots of tasty goodies in every slice! 
Even though I call it a "tea" bread, serving it with a nice hot cup of tea is optional (but recommended!).
Banana-Split Tea Bread
from Vegan Planet by Robin Robertson
Makes 1 loaf
Ingredients:
2 1/2 cups unbleached all-purpose flour
2 teaspoons baking powder
1/2 teaspoon salt
3 medium-size very ripe bananas, peeled and cut into chunks
3/4 cup plain unsweetened nondairy milk
3/4 cup natural sugar
1 1/2 teaspoons pure vanilla extract
1/3 cup vegan semisweet chocolate chips
1/4 cup chopped unsalted dry-roasted peanuts or other nuts
1/4 cup drained crushed pineapple, blotted dry
1/4 cup dried cherries
Directions:
1. Preheat the oven to 375°F. Lightly oil a 5 x 9-inch loaf pan and set aside.
2. In a large bowl, combine the flour, baking powder, and salt and set aside.
3. In a food processor, combine the bananas, nondairy milk, sugar, and vanilla and process until smooth. Add to the flour mixture and mix well. Fold in the chocolate chips, nuts, pineapple, and cherries, then transfer to the prepared pan.
4. Bake on the center oven rack until a toothpick inserted in the center comes out clean, 50 to 60 minutes. Allow to cool in the pan on a wire rack before removing from the pan and slicing.
I hope you're enjoying this celebration of World Vegan Month with 30 Days of Vegan Cooking from the Revised Edition of Vegan Planet.