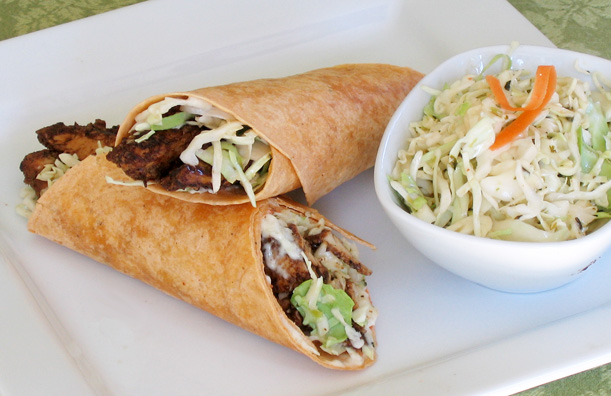 One of the best parts of being a food writer is having the opportunity to try out new products as they become available.  It's even more fun when I'm impressed enough with the product to write a blog post about it.  I had the recent good fortune of sampling two such products: Beyond Meat Chicken-Free Strips and Nasoya Vegan Nayonaise (now creamier and with a new look).
In my ongoing quest to make banh mi in as many different ways as I can dream up, I had been wanting to make Banh Mi Fajitas featuring a creamy sriracha-cilantro slaw.  When I received the Beyond Meat strips and the Nayonaise within days of each other, I knew what I had to do!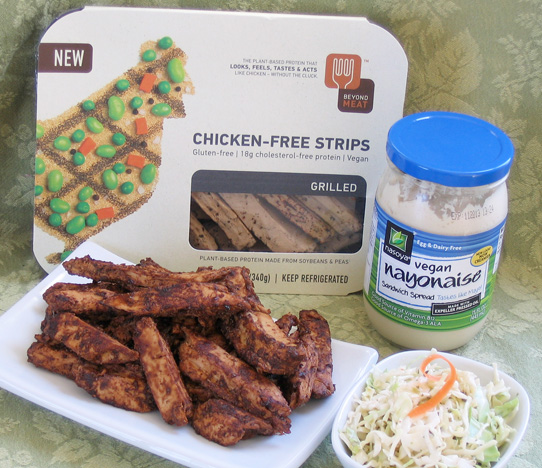 First, I've got to tell you that the Beyond Meat strips are by far the BEST, tastiest, most wonderfully textured and flavored protein-delivery food (I don't like using the phrase "meat alternative") I've ever had.  They are seriously better than any other commercial product and better than the best homemade seitan, hands down.  What's most amazing to me is that somehow the brilliant people at Beyond Meat were able to develop such a superior product that also happens to be gluten-free.  That, in itself, is an amazing gift to gluten-sensitive people everywhere.  The strips also happen to be very high in protein and easy to use in countless recipes.  All I can say is, "Wow."
The strips browned up nicely and, for my purposes, I doused them with a hoisin-tamari mixture while cooking and then set them aside (after sampling a few pieces, of course).
For the slaw, I made a sauce by combining the new creamy Nayonaise (extremely flavorful and with a great texture) with cilantro, rice vinegar, and sriracha. Tossed with shredded cabbage and carrot, the crunchy slaw tasted fabulous on its own, but I knew it would be even better in the Banh Mi Fajitas — because, well, things go better with banh mi!  And these fajitas are so simply to make: just spread a little Nayonaise and (extra sriracha!) on a tortilla or wrap, line up a few of the Beyond Meat strips, top with the slaw, and roll up!