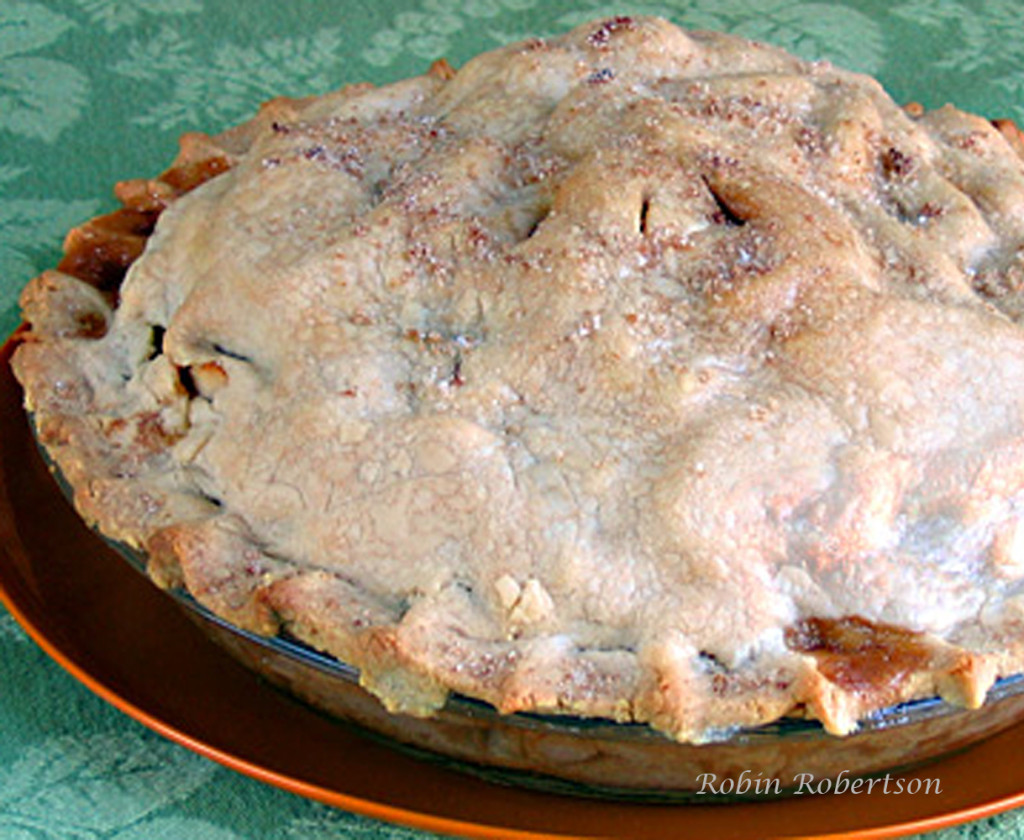 In my house, apple is the new pumpkin — at least where Thanksgiving pie is concerned.  Ever since we discovered the wonderful local Stayman apples here in the Shenandoah Valley, Jon has requested apple pie instead of pumpkin on Thanksgiving — although I usually end up making both!
Today's recipe of 30 Days of Vegan Cooking from the Revised Edition of Vegan Planet is my recipe for Brandy Apple Pie. A touch of brandy adds a bit of sophistication to "Mom's apple pie." You can, of course, omit the brandy, if you prefer. Serve warm with a scoop of dairy-free vanilla ice cream for nostalgic decadence at its best. Be sure to place a baking sheet under your pie while it is baking to catch the drips.
 Brandy-Apple Pie
from Vegan Planet by Robin Robertson
Serves 8
Ingredients:
2 cups unbleached all-purpose flour
1 teaspoon salt
2/3 cup chilled vegan butter, cut into small pieces
1/4 cup ice water, or as needed
5 large Granny Smith or other tart baking apples (I use Stayman's)
1/2 cup natural sugar
1 teaspoon ground cinnamon
1/4 teaspoon ground allspice
1 tablespoon fresh lemon juice
1 tablespoon cornstarch
2 tablespoons brandy
Directions:
1. Combine the flour and salt in a food processor. Blend in the vegan butter with short pulses until the mixture becomes crumbly. With the machine running, add just enough of the water through the feed tube until the dough just starts to hold together. Transfer to a work surface, divide in half, and flatten to form 2 disks. Wrap in plastic and refrigerate for 30 minutes.
 2. Preheat the oven to 425°F. On a lightly floured work surface, roll out 1 piece of dough to fit a 9-inch pie plate. Fit the dough into the pie plate and trim and flute the edges. Roll out the remaining dough for the top crust and set aside or refrigerate if you will not be using right away. Refrigerate the pie plate.
 3. Peel, core, and slice the apples and place in a large bowl. Add the sugar, cinnamon, allspice, lemon juice, cornstarch, and brandy and stir to mix well. Spoon the apple mixture into the prepared bottom crust.
 4. Place the top crust on the fruit, seal with the bottom crust, and flute the edges. Use a fork or knife to create several steam holes in the top crust. Bake for 10 minutes, then reduce the oven temperature to 350°F and bake until golden brown, about 45 minutes longer. Let cool to room temperature before slicing.