Lately, I've been obsessed with a cake. Okay, make that two cakes. For the record, I'm really not much of a dessert person, nor am I especially into raw foods. Which is why it may surprise you (as it did me!) that the two cakes I'm obsessed with are from Amber Shea Crawley's new book, Practically Raw Desserts. The recipes in this book have been tantalizing me for a while now, since Jon's company, Vegan Heritage Press, published the book.
My main obsession is the Confetti Birthday Cake you see above. I swear I've been dreaming about this cake with its vanilla coconut-crème frosting and its adorable coconut confetti sprinkles. I plan to make this delightful confection for my own birthday, but I may not be able to wait until Jun.  Maybe Earth Day…that's next week! 🙂
The other cake that captures my attention is this insanely delicious-looking Enlightened Carrot Cake that is not only raw, vegan, gluten-free, and soy-free, but also grain-free, nut-free, low-calorie, low-fat, no-added-sugar, and no-bake. Yes, it's all that! I'm in awe of the fact that something that looks so luscious can be so virtuous.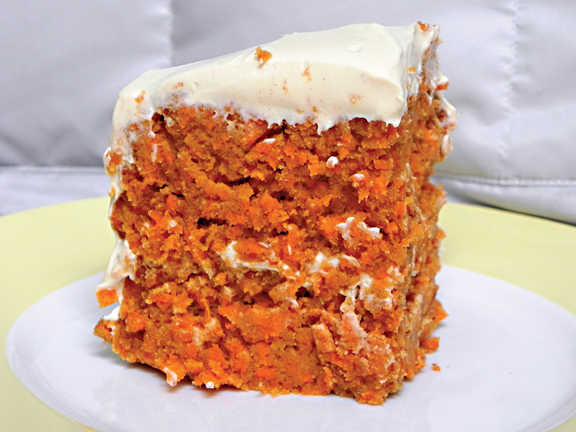 There are lots of other amazing treats in Practically Raw Desserts. What I like best about the book is that it has something for everyone, even those with various food allergies. All of the recipes in the book are vegan, low-glycemic, and free of dairy, eggs, gluten, wheat, soy, refined sugars, refined flours, yeast, starches, gums, corn, and peanuts. They are also reasonably low (to very low) in calories and require no special equipment. The recipes are clearly written with lots of variations and substitutions.  Several of the recipes are "no-bake" while others can be made either raw or baked.
The sheer variety in Practically Raw Desserts is astonishing too. Among the other recipes (besides those two cakes!) that I've marked as "must try" are:
Tuxedo Cheesecake Brownies
Baklava Blondies
Key Lime Pie
Pineapple Upside-Down Cake
Crumb-Topped Chocolate Hazelnut Torte
Coconut Heaven Cupcakes
Salted Tahini Caramels
White Chocolate Vanilla Bean Truffles
Whether you're vegan, raw, or just like good desserts, you'll find lots to love in Practically Raw Desserts. And if you or someone you know has certain food sensitivities, this book is definitely or you.