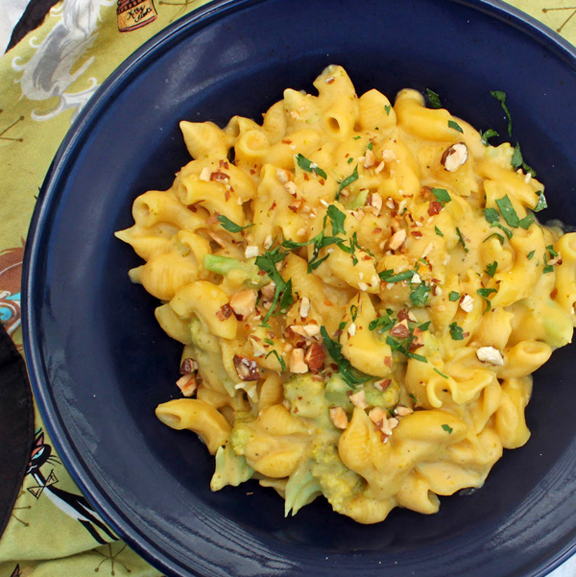 With a chill in the air and darkness coming earlier, comfort food has been calling my name.  Two of my favorite comfort foods are vegan mac and cheese and a nice spicy chili.
I made a batch of quick chili on Sunday — the Three-Bean Pantry Chili from my cookbook, MORE Quick-Fix Vegan.  It was soooo good!  For last night's dinner, I whipped up the Mac UnCheesy Bowls from the same book.   It was only with the greatest amount of willpower that there are some leftovers of both. So…..guess what's on the menu for dinner tonight? That's right:
Chili + Mac UnCheese = Chili Mac!!!
You don't even need a recipe to make it!  Just combine leftover chili with leftover mac n' cheese in a lightly oiled casserole dish and bake until hot.  (You can top this with a little shredded vegan cheese or some crumbled tortilla chips.) If you don't want to turn on the oven, just heat in a saucepan or even in the microwave.
You can of course use any chili and mac and cheese recipes you like, but I really like the flavor (and speed, and convenience) of the recipes in MORE Quick-Fix Vegan.   (thanks to Zsu Dever for the great photos). On the chance that you do not yet have MORE Quick-Fix Vegan (my favorite of all three in the "Quick-Fix" series), I'll share the recipes with you here.  Let me know what you think!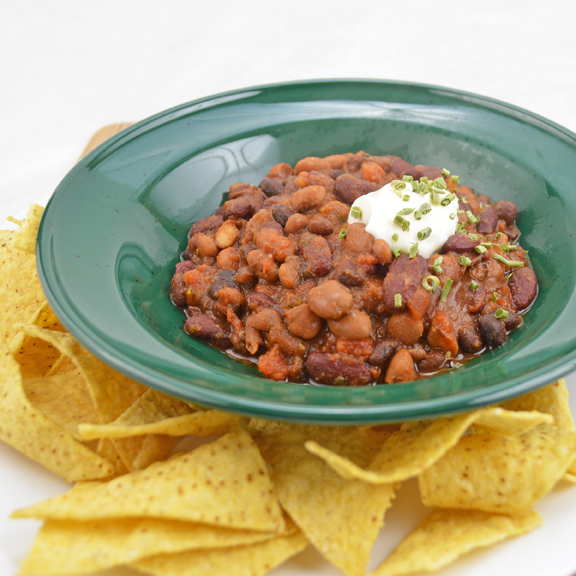 Three-Bean Pantry Chili
A selection of canned beans combine with a jar of salsa and some chili powder for an almost effortless pot of chili. Vary the beans according to what's on hand (lentils are great in this!) and add some TVP if you like. The optional corn kernels make a tasty addition. Naturally, if you have any chili toppings on hand such as avocado, scallions, or vegan sour cream, feel free to use them at will. From MORE Quick-Fix Vegan by Robin Robertson © 2014, Andrews McMeel Publishing.
Serves 4
1 (15.5-ounce) can black beans, drained and rinsed
1 (15.5-ounce) can dark red kidney beans, drained and rinsed
1 (15.5-ounce) can pinto beans, drained and rinsed
1 (24-ounce) jar salsa (hot or mild)
2 to 3 tablespoons chili powder
1 (8-ounce) can corn kernels, drained (optional)
Combine all the ingredients in a saucepan, reserving half the corn, if using. Cook over medium heat, stirring occasionally, until heated through and long enough to cook off any raw taste from the chili powder, 15 to 20 minutes. Add up to 1 cup of water if the chili is too thick. Serve hot, garnished with the remaining corn kernels.
Mac UnCheesy Bowls
Serves 4
If ever there was comfort food in a bowl, it's this recipe. A protein-rich stovetop mac and cheese combines with broccoli for a quick and easy one-dish meal that is sure to please kids of all ages. Instead of broccoli, you could use a different vegetable, such as chopped spinach or frozen green peas. From MORE Quick-Fix Vegan by Robin Robertson © 2014, Andrews McMeel Publishing.
8 ounces elbow macaroni
3 cups small broccoli florets
1 1/2 cups cooked or 1 (15-ounce) can cannellini beans, drained and rinsed
3/4 cup chopped roasted red bell pepper or cooked butternut squash
3/4 cup plain unsweetened almond milk
1 tablespoon tahini
2 tablespoons fresh lemon juice
1 teaspoon yellow mustard
1/3 cup nutritional yeast, or more
1/2 teaspoon smoked paprika
1/2 teaspoon garlic powder
1/2 teaspoon dried basil
1/2 teaspoon salt, or more
1/4 teaspoon freshly ground black pepper
Cook the macaroni in a pot of boiling salted water for 5 minutes. Stir in the broccoli and cook a few minutes longer, until the pasta is al dente and the broccoli is just tender. Drain and return to the pot.
In a food processor or blender, combine the cannellini beans, bell pepper, almond milk, tahini, lemon juice, mustard, nutritional yeast, paprika, garlic powder, onion powder, basil, salt, and pepper. Add a dash of cayenne or hot sauce if desired. Process until smooth and well blended. Taste and adjust the seasonings, if needed. Add a little more almond milk if the sauce is too thick. Transfer the sauce mixture to the pot containing the cooked pasta and broccoli. Stir gently over low heat to combine and heat through. To serve, divide the mixture into four bowls.