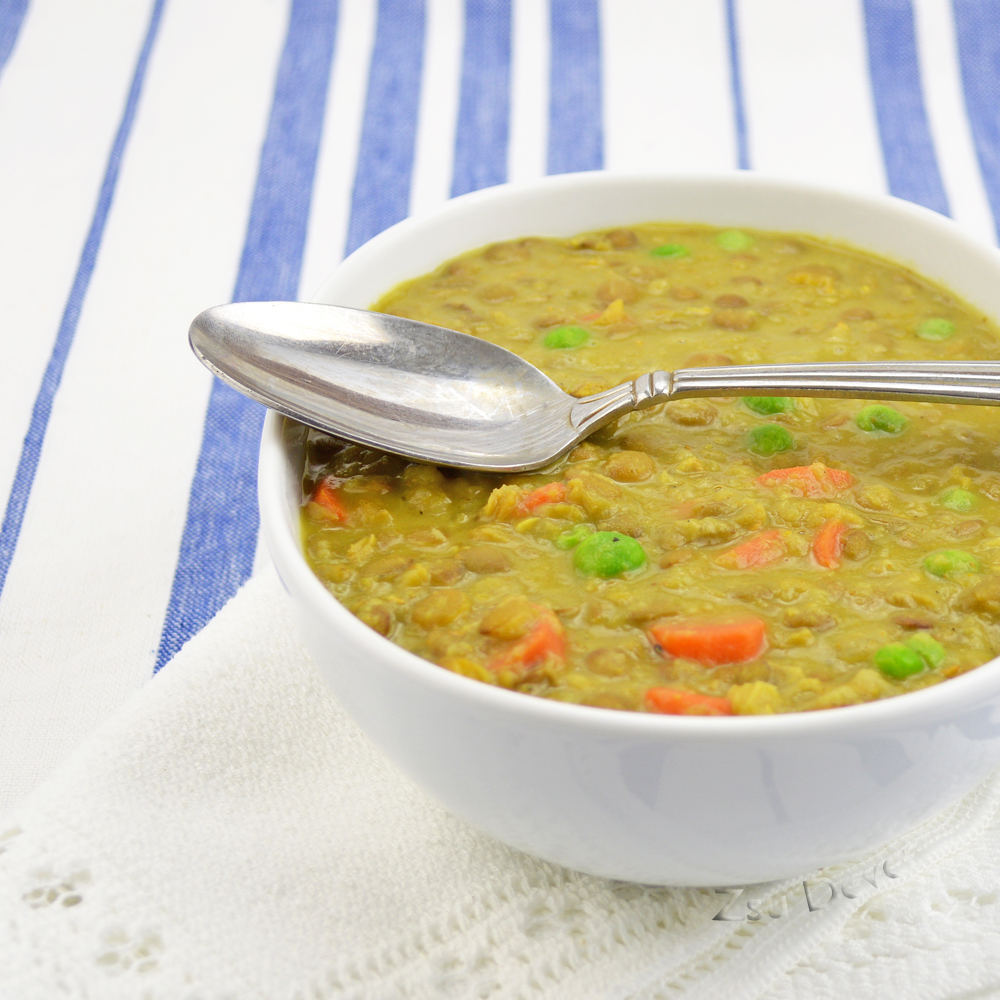 Curried Lentils with Carrots and Peas is Recipe #24 of 30 Days of Vegan Cooking from the Revised Edition of Vegan Planet.
Aromatic spices and coconut milk transforms pantry staples into a richly flavored stew. Serve over freshly cooked basmati rice or with some warm naan or other flatbread.
Curried Lentils with Carrots and Peas
from Vegan Planet by Robin Robertson
Serves 4 to 6
 Ingredients:
1 large onion, cut into chunks
2 garlic cloves, crushed
1 teaspoon chopped fresh ginger
1 tablespoon olive oil
2 teaspoons curry powder
1 teaspoon salt
1/2 teaspoon ground cumin
1/2 teaspoon ground coriander
1/4 teaspoon dry mustard
1/4 teaspoon freshly ground black pepper
1/4 teaspoon cayenne
1/4 teaspoon turmeric
1?8 teaspoon ground cardamom or cloves (optional)
4 cups water
11/4 cups dried brown lentils, picked over and rinsed
2 large carrots, halved lengthwise and cut into thin half-moons
3/4 cup frozen green peas, thawed
1 cup unsweetened coconut milk
Hot cooked rice, to serve
Directions:
 1. In a food processor, puree the onion, garlic, and ginger.
 2. Heat the olive oil in a large saucepan over medium heat. Add the onion puree, cover, and cook to mellow the flavor, about 5 minutes, stirring a few times to make sure it doesn't burn. Stir in all of the spices and cook, stirring, for 30 seconds. Add the water and bring to a simmer. Add the lentils, cover, and cook for 25 minutes. Add the carrots, cover, and continue to cook until tender, about 20 minutes more.
 3. When the lentils and carrots are tender, stir in the peas and coconut milk. Taste and adjust the seasonings, if needed. Simmer, uncovered, to incorporate the flavors, about 10 minutes. Serve hot over rice.