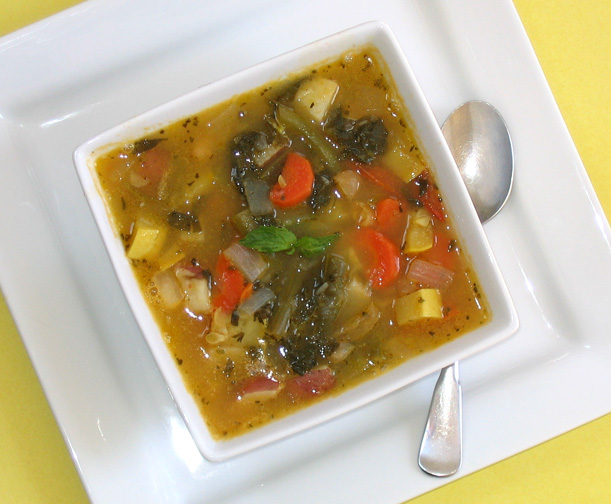 In honor of  Earth Day, I'm sharing a recipe for Earth Day Vegetable Soup.  The multitude of vegetables in the soup are meant to signify earth's bounty and the soup is made in a slow cooker to save energy. 
The recipe is an adaptation of Summer Vegetable Soup from Fresh from the Vegan Slow Cooker.  As that recipe states, you can vary the vegetables according to personal preference and what's on hand or in season – so that's what I did.  So that all the vegetables are done cooking at the same time, I start the soup with the harder vegetables so they cook longer and then I add the more delicate vegetables later.  I also added some carrot juice and a teaspoon of extra-virgin olive oil just before serving to enrich the broth. When you add fresh tomatoes and herbs just before serving, the soup tastes like it came right from the garden. So fresh and delicious!  
Here's a photo of Petey "helping" with the photography, and below is the recipe.  Happy Earth Day!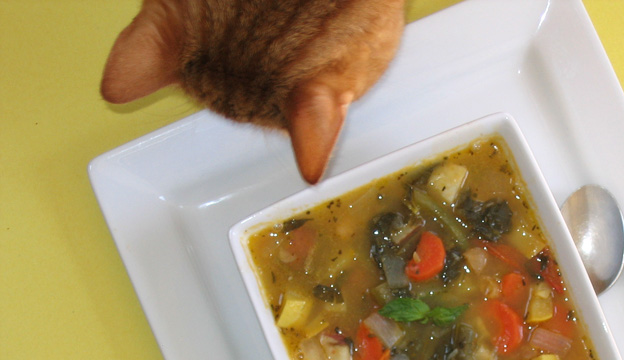 Earth Day Vegetable Soup
Fresh asparagus or zucchini also make good additions.  If you have some fresh dill or tarragon on hand, add a tablespoon or two when you're ready to serve the soup. For a heartier soup, add more beans and some cooked brown rice or quinoa close to serving time.
1 large yellow onion, chopped
3 garlic cloves, minced
2 carrots, chopped
1 celery rib, chopped
3 small red potatoes, diced
1/2 cup chopped red, yellow, or orange bell pepper
6 cups vegetable broth
1 or 2 bay leaves
1 teaspoon minced fresh or dried marjoram
Salt and freshly ground black pepper
4 ounces green beans, ends trimmed and cut into 1-inch pieces
1 1/2 cups cooked or one 15-ounce can cannellini beans, rinsed and drained
1 small yellow summer squash, diced
4 cups chopped fresh spinach or chard
6 cherry tomatoes, quartered
1/2 cup fresh carrot juice (optional)
1 teaspoon extra-virgin olive oil (optional)
2 tablespoons chopped fresh flat-leaf parsley
2 tablespoons chopped fresh basil
In a 4- to 6-quart slow cooker, combine the onion, garlic, carrots, celery, potatoes, bell pepper, and broth. Add the bay leaves and marjoram and season with salt and pepper to taste.  The amount of salt needed will depend on the saltiness of your broth.  Cover and cook on High for 3 hours.
Add the green beans, white beans, and yellow squash. Cook for 1 hour longer, or until the green beans are just tender.   
About 10 minutes before serving time, remove the bay leaves and stir in the spinach, tomatoes, and carrot juice and olive oil, if using.  Just before serving, stir in the fresh herbs. Taste and adjust the seasonings, if needed. Serve hot.
Serves 4 to 6